South Sudan's Transitional Government of National Unity: A Solution to the Country's Instability or Mere Elite Pact of Self-Preservation?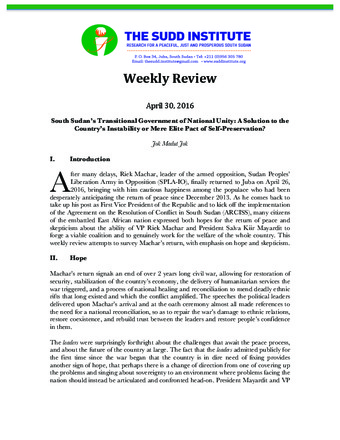 Author: Jok Madut Jok
Organization: The Sudd Institute
Type: Weekly Reviews
Date: 30/04/2016
Publication Summary
After many delays, Riek Machar, leader of the armed opposition, Sudan Peoples' Liberation Army in Opposition (SPLA-IO), finally returned to Juba on April 26, 2016, bringing with him cautious happiness among the populace who had been desperately anticipating the return of peace since December 2013. As he comes back to take up his post as First Vice President of the Republic and to kick off the implementation of the Agreement on the Resolution of Conflict in South Sudan (ARCISS), many citizens of the embattled East African nation expressed both hopes for the return of peace and skepticism about the ability of VP Riek Machar and President Salva Kiir Mayardit to forge a viable coalition and to genuinely work for the welfare of the whole country. This weekly review attempts to survey Machar's return, with emphasis on hope and skepticism.
Jok Madut Jok is trained in the anthropology of health and holds a Ph.D. from the University of California, Los Angeles (UCLA). He is a fellow of Rift Valley Institute and Director of the Sudd Institute. Jok has held fellowship positions at a number of other institutions, including the United States Institute of Peace and the Woodrow Wilson International Center for Scholars. He also served in the Government of South Sudan as undersecretary in the Ministry of Culture and Heritage for three years. He has also worked in aid and development and author of four books and numerous articles covering gender, sexuality and reproductive health, humanitarian aid, ethnography of political violence, gender-based violence, war and slavery, and the politics of identity in South Sudan and Sudan. His book Breaking Sudan: The Search for Peace, was published in 2017 by OneWorld.