The Importance of Judicial Independence to the Administration of Justice: The Case of South Sudan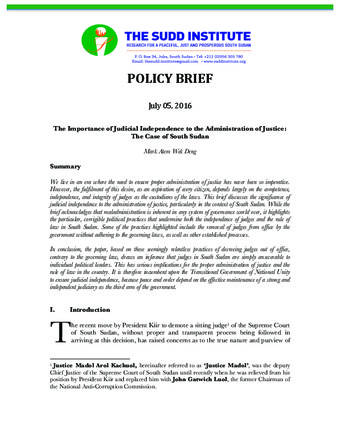 Author: Mark A. Wek Deng
Organization: The Sudd Institute
Type: Policy Briefs
Date: 05/07/2016
Publication Summary
We live in an era where the need to ensure proper administration of justice has never been so imperative. However, the fulfilment of this desire, as an aspiration of every citizen, depends largely on the competence, independence, and integrity of judges as the custodians of the laws. This brief discusses the significance of judicial independence to the administration of justice, particularly in the context of South Sudan. While the brief acknowledges that maladministration is inherent in any system of governance world over, it highlights the particular, corrigible political practices that undermine both the independence of judges and the rule of law in South Sudan. Some of the practices highlighted include the removal of judges from office by the government without adhering to the governing laws, as well as other established processes.
In conclusion, the paper, based on these seemingly relentless practices of decreeing judges out of office, contrary to the governing law, draws an inference that judges in South Sudan are simply answerable to individual political leaders. This has serious implications for the proper administration of justice and the rule of law in the country. It is therefore incumbent upon the Transitional Government of National Unity to ensure judicial independence, because peace and order depend on the effective maintenance of a strong and independent judiciary as the third arm of the government. 
Mark Atem Wek Deng is an Australian admitted South Sudanese lawyer. He is a Ph.D. Candidate at the University of Queensland, Australia. His research looks at constitution building processes in post-conflict societies, focusing particularly on South Sudan. In particular, he investigates political philosophy and the advancement of the rule of law and constitutionalism.