Negotiations in a Cultural Context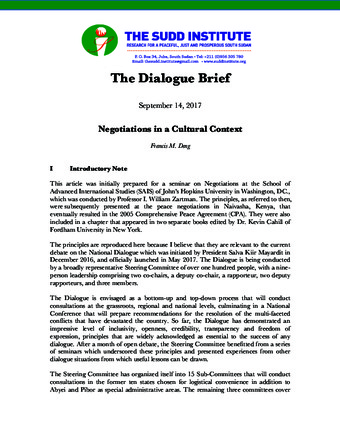 Author: Francis Mading Deng
Organization: The Sudd Institute
Type: Dialogue briefs
Date: 14/09/2017
Publication Summary
This article was initially prepared for a seminar on Negotiations at the School of Advanced International Studies (SAIS) of John's Hopkins University in Washington, DC., which was conducted by Professor I. William Zartman. The principles, as referred to then, were subsequently presented at the peace negotiations in Naivasha, Kenya, that eventually resulted in the 2005 Comprehensive Peace Agreement (CPA). They were also included in a chapter that appeared in two separate books edited by Dr. Kevin Cahill of Fordham University in New York.
Francis Mading Deng's Biography
Francis M. Deng has recently been assigned the position of South Sudan's Roving Ambassador after having been the country's first Permanent Representative to the United Nations. Prior to that, he served for five years as the United Nations Secretary-General's Special Advisor on the Prevention of Genocide at the level of Under-Secretary-General. From 1992 to 2004, he served as Representative of the Secretary-General on Internally Displaced Persons.  His first position in the United Nations was that of Human Rights Officer in the Secretariat from 1967 to 1972 when he was appointed Sudan's Ambassador to the Nordic Countries. He was also Sudan's Ambassador to Canada and the United States of America and was also Minister of State for Foreign Affairs for five years. After leaving his Government's service, he held a series of positions in leading think tanks and universities in the United States. Dr. Deng graduated with an LLB (honors) from the University of Khartoum to which he was appointed a member of the Law Faculty and then sent abroad for post-graduate studies.  He holds an LLM and a JSD from Yale University Law School. Dr. Deng has authored and edited over thirty books in a wide variety of fields and has written two novels on the crisis of national identity in the Sudan.