Kenya's Crackdown on the South Sudanese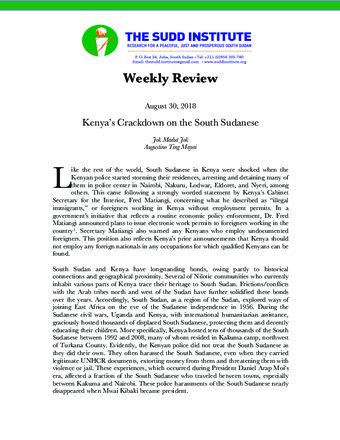 Authors: Jok Madut Jok, Augustino Ting Mayai
Type: Weekly Reviews
Date: 30/08/2018
Publication Summary
Like the rest of the world, South Sudanese in Kenya were shocked when the Kenyan police started storming their residences, arresting and detaining many of them in police center in Nairobi, Nakuru, Lodwar, Eldoret, and Nyeri, among others. This came following a strongly worded statement by Kenya's Cabinet Secretary for the Interior, Fred Matiangi, concerning what he described as "illegal immigrants," or foreigners working in Kenya without employment permits. In a government's initiative that reflects a routine economic policy enforcement, Dr. Fred Matiangi announced plans to issue electronic work permits to foreigners working in the country[1]. Secretary Matiangi also warned any Kenyans who employ undocumented foreigners. This position also reflects Kenya's prior announcements that Kenya should not employ any foreign nationals in any occupations for which qualified Kenyans can be found.
Jok Madut Jok is trained in the anthropology of health and holds a Ph.D. from the University of California, Los Angeles (UCLA). He is a fellow of Rift Valley Institute and Director of the Sudd Institute. Jok has held fellowship positions at a number of other institutions, including the United States Institute of Peace and the Woodrow Wilson International Center for Scholars. He also served in the Government of South Sudan as undersecretary in the Ministry of Culture and Heritage for three years. He has also worked in aid and development and author of four books and numerous articles covering gender, sexuality and reproductive health, humanitarian aid, ethnography of political violence, gender-based violence, war and slavery, and the politics of identity in South Sudan and Sudan. His book Breaking Sudan: The Search for Peace, was published in 2017 by OneWorld.
Augustino Ting Mayai's Biography
Augustino Ting Mayai is the Managing Director of the Sudd Institute. He is a founding Research Director of the same institution, serving in this capacity for a decade. He holds a Ph.D. in Sociology, with concentrations on demography and development from the University of Wisconsin-Madison. He currently studies how state effectiveness affects child health outcomes in South Sudan and Ethiopia. Dr. Mayai has written extensively on South Sudan's current affairs.