Reforms under the R-ARCSS could become mere Transitions without Democratic Change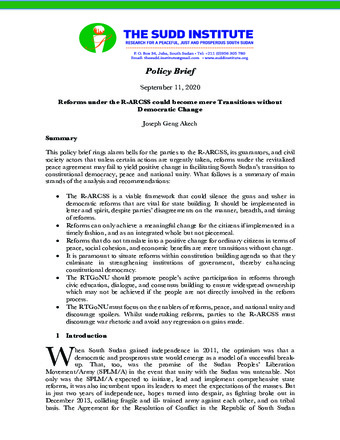 Type: Policy Briefs
Date: 11/09/2020
Publication Summary
This policy brief rings alarm bells for the parties to the R-ARCSS, its guarantors, and civil society actors that unless certain actions are urgently taken, reforms under the revitalized peace agreement may fail to yield positive change in facilitating South Sudan's transition to constitutional democracy, peace and national unity. What follows is a summary of main strands of the analysis and recommendations:
The R-ARCSS is a viable framework that could silence the guns and usher in democratic reforms that are vital for state building. It should be implemented in letter and spirit, despite parties' disagreements on the manner, breadth, and timing of reforms.
Reforms can only achieve a meaningful change for the citizens if implemented in a timely fashion, and as an integrated whole but not piecemeal. 
Reforms that do not translate into a positive change for ordinary citizens in terms of peace, social cohesion, and economic benefits are mere transitions without change.
It is paramount to situate reforms within constitution building agenda so that they culminate in strengthening institutions of government, thereby enhancing constitutional democracy.
The RTGoNU should promote people's active participation in reforms through civic education, dialogue, and consensus building to ensure widespread ownership which may not be achieved if the people are not directly involved in the reform process.
The RTGoNU must focus on the enablers of reforms, peace, and national unity and discourage spoilers. Whilst undertaking reforms, parties to the R-ARCSS must discourage war rhetoric and avoid any regression on gains made.