Democratic Elections in South Sudan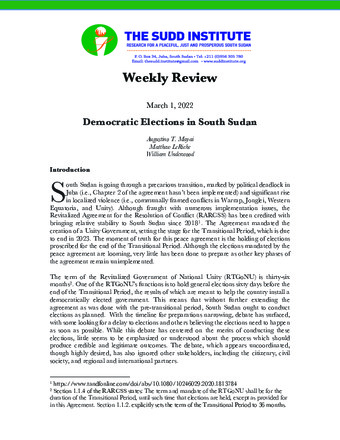 Authors: Matthew LeRiche, William Underwood, Augustino Ting Mayai
Type: Weekly Reviews
Date: 01/03/2022
Publication Summary
This week's Review analyzes South Sudan's readiness to conduct elections in under a year and reflects on why they are important. We start out with the discussion of the election's fundamentals, then move to why elections are imperative in a post-conflict context. We then end our Review with policy perspectives that have the potential of improving/strengthening the process, preserving its integrity, and delivering credible and legitimate results, regardless of whether the elections will be conducted on time. Our stance is that the process, credibility, and associated legitimacy the elections need to produce are the most important elements rather than precise timing.
Matthew LeRiche is an Assistant Professor of Global Studies, Director War and Peace Studies, Director Global Leadership Center, Ohio University. He is a regular political risk analyst for industry and government. Author of various articles and chapters on South Sudan as well as the book South Sudan: From Revolution to Independence (Oxford University Press). Matthew holds a Ph.D. from King's College London.
William Underwood is a doctoral (PhD) candidate in international law at Stockholm University and a visiting PhD researcher at the Sudd Institute. His thesis examines whether and how international legal norms shape the process and content of governmental and constitutional change after armed conflict. He researches and consults more broadly on the legal aspects of democratic governance, peace processes and post-conflict transitions, and has worked for International IDEA and the UN Mediation Support Unit. A former Australian diplomat, he is admitted as a lawyer in Australia and holds master's degrees in international law from the University of Melbourne, and in peace and conflict studies from Uppsala University.
Augustino Ting Mayai's Biography
Augustino Ting Mayai is the Managing Director of the Sudd Institute. He is a founding Research Director of the same institution, serving in this capacity for a decade. He holds a Ph.D. in Sociology, with concentrations on demography and development from the University of Wisconsin-Madison. He currently studies how state effectiveness affects child health outcomes in South Sudan and Ethiopia. Dr. Mayai has written extensively on South Sudan's current affairs.