The unresolved aspects of the Revitalised Peace Agreement and their implications on constitution-making in South Sudan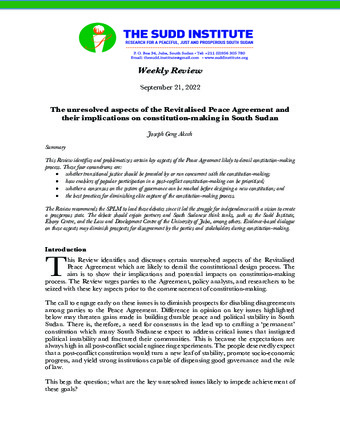 Author: Joseph Geng Akech
Type: Weekly Reviews
Date: 21/09/2022
Publication Summary
This Review identifies and problematizes certain key aspects of the Peace Agreement likely to derail constitution-making process. These four conundrums are:
whether transitional justice should be preceded by or run concurrent with the constitution-making;
how enablers of popular participation in a post-conflict constitution-making can be prioritised;
whether a consensus on the system of governance can be reached before designing a new constitution; and 
the best practices for diminishing elite capture of the constitution-making process. 
The Review recommends the SPLM to lead these debates since it led the struggle for independence with a vision to create a prosperous state. The debate should enjoin partners and South Sudanese think tanks, such as the Sudd Institute, Ebony Centre, and the Law and Development Centre of the University of Juba, among others. Evidence-based dialogue on these aspects may diminish prospects for disagreement by the parties and stakeholders during constitution-making.
Joseph Geng Akech is a passionate South Sudanese human rights lawyer. He holds Diploma in community development, (KISWCD, Kenya), Bachelor of Laws (BU, Uganda), LLM in human rights and democratisation in Africa, with distinction (Pretoria, South Africa) and PhD (doctoral) researcher on constitution building in fragile states. His research interests are in constitutional law, human rights, transitional justice and peace building. Joseph's doctoral research is entitled 'foreign influence and the legitimacy of constitution building in South Sudan' which interrogates international involvement and the legitimacy of resulting permanent constitution in the world's newest nation. Joseph has published numerous articles and chapters in books on constitutionalism and peacebuilding. He can be reached on josephgakech@gmail.com.