How will the 'permanent' constitution be adopted?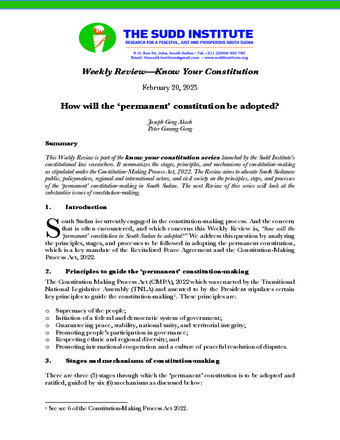 Authors: Joseph Geng Akech, Peter Garang Geng
Type: Weekly Reviews
Date: 20/02/2023
Publication Summary
This Weekly Review is part of the know your constitution series launched by the Sudd Institute's constitutional law researchers. It summarizes the stages, principles, and mechanisms of constitution-making as stipulated under the Constitution-Making Process Act, 2022. The Review aims to educate South Sudanese public, policymakers, regional and international actors, and civil society on the principles, steps, and processes of the 'permanent' constitution-making in South Sudan. The next Review of this series will look at the substantive issues of constitution-making.
Joseph Geng Akech is an Adjunct Assistant Professor of Law at the University of Juba. He holds a Doctor of Laws (LLD) in constitutional law, and he has published widely in constitutional designs, human rights, and transitional justice. He may be reached on e-mail: josephgakech@gmail.com.
Peter Garang Geng is a practicing lawyer and an experienced humanitarian worker. He holds an LLM in international law, with concentration on human rights from Sharda University, India. His research interest focuses on the rule of law and governance, human rights and gender, and humanitarian law. He may be reached on e-mail: garanggengakot@gmail.com