On Navigating the Roadmap: A Path Towards Democratization and Prosperity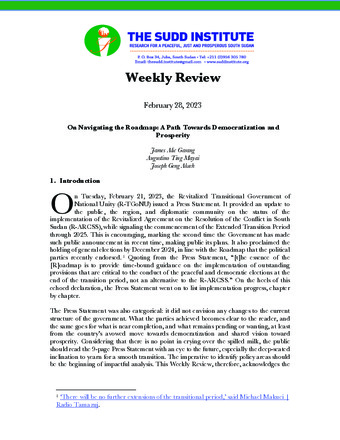 Authors: Joseph Geng Akech, James Alic Garang, Augustino Ting Mayai
Type: Weekly Reviews
Date: 28/02/2023
Publication Summary
On Tuesday, February 21, 2023, the Revitalized Transitional Government of National Unity (R-TGoNU) issued a Press Statement. It provided an update to the public, the region, and diplomatic community on the status of the implementation of the Revitalized Agreement on the Resolution of the Conflict in South Sudan (R-ARCSS), while signaling the commencement of the Extended Transition Period through 2025. This is encouraging, marking the second time the Government has made such public announcement in recent time, making public its plans. It also proclaimed the holding of general elections by December 2024, in line with the Roadmap that the political parties recently endorsed. Quoting from the Press Statement, "[t]he essence of the [R]oadmap is to provide time-bound guidance on the implementation of outstanding provisions that are critical to the conduct of the peaceful and democratic elections at the end of the transition period, not an alternative to the R-ARCSS." On the heels of this echoed declaration, the Press Statement went on to list implementation progress, chapter by chapter.
This Weekly Review, therefore, acknowledges the progress made, while focusing on potential, actionable policy measures the parties to the Roadmap should consider.
Joseph Geng Akech is an Adjunct Assistant Professor of Law at the University of Juba. He holds a Doctor of Laws (LLD) in constitutional law, and he has published widely in constitutional designs, human rights, and transitional justice. He may be reached on e-mail: josephgakech@gmail.com.
James Alic Garang is a co-founder and scholar at The Sudd Institute. His areas of interest include macroeconomics, development economics, financial sector, and financial inclusion. He has in the past participated in host of academic and professional undertakings, including internships at the African Development Bank in Tunisia (2009-2010), as a lead evaluator on the Banking Sector during the "Comprehensive Evaluation of the Government of South Sudan, 2006-2010", a consultant with the World Bank (2013-2014), and a board member serving on a number of charitable organizations and academic affiliations. A former McNair Scholar, and a member of Omicron Delta Epsilon, James holds a PhD in Economics from the University of Massachusetts, Amherst. A former Deputy Dean of Faculty of Economic & Social Studies at Upper Nile University and a Senior Economist with the Ebony Center for Strategic Studies, he is currently a Senior Advisor to the Executive Director at the IMF Executive Board in Washington, DC.
Augustino Ting Mayai's Biography
Augustino Ting Mayai is the Managing Director of the Sudd Institute. He is a founding Research Director of the same institution, serving in this capacity for a decade. He holds a Ph.D. in Sociology, with concentrations on demography and development from the University of Wisconsin-Madison. He currently studies how state effectiveness affects child health outcomes in South Sudan and Ethiopia. Dr. Mayai has written extensively on South Sudan's current affairs.