A Nation in Transition: South Sudan's Constitutional Review Process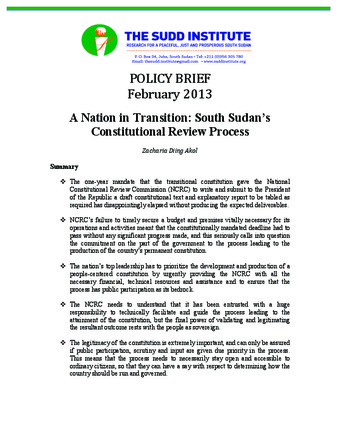 Author: Zacharia Diing Akol
Organization: The Sudd Institute
Type: Policy Briefs
Date: 17/02/2013
Publication Summary
One year after the decree issued by the president of the Republic of South Sudan effectively forming the National Constitution Review Commission, little is known about the progress towards writing the permanent constitution for the world's newest nation.  The process seems to be considered as the reserve of an exclusive select few and the public has very little or no contribution to and have not participated in the making of the supreme law of the country.  It is believed that the citizens of the Republic of South Sudan are the legitemate body that can ractify the nation's constitution through nation-wide constitution referendum otherwise the legitemacy of the permanent constitution of South Sudan will be in serious doubt if it is prepared, approved and passed by only a few individuals.
The Sudd Institute, in this policy brief, looks at the stalled process of the making of permanent constitution of the Republic of South Sudan, taking stock of what has been done since the National Constitution Review Commission was formed, taking into account what still needs to be done, the time required to formulate a good permanent constitution with the participation of the general South Sudanese public and the resources and time required for the Commission to complete the work.
Zacharia Diing Akol's Biography
Zacharia Diing Akol is the Director of Training at the Sudd Institute. Diing has extensive experience in community outreach, government and organizational leadership. He is currently working on M.Res./Ph.D. in political science at the London School of Economics. Diing's research interests include the role of civil society organizations in peacebuilding, traditional leadership and democratic governance, post-conflict reconstruction, faith and public policy, and the dynamics of civil war.

Before co-founding the Sudd Institute Diing served as a consultant for the Government of South Sudan, evaluating parliamentary activities and government programs. He was also a Transitional Justice Fellow at the Institute for Justice and Reconciliation in Cape Town, South Africa, a Project Luke Fellow at the Overseas Ministries Studies Center in New Haven, Connecticut, USA. Diing has facilitated short courses on conflict resolution, peace building, leadership and administration in Grand Rapids, Michigan, USA, Malakal and Renk, South Sudan and given public lectures on Sudan and South Sudan at numerous universities across the United States.

Diing holds a Master's degree in Peace and Justice Studies from the University of San Diego and two Bachelor's degrees from Michigan State University in Public Policy & Administration and Policy & Applied Economics.