A Strategy for Achieving Gender Equality in South Sudan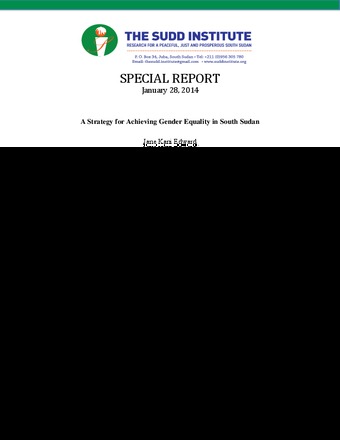 Author: Jane Kani Edward
Organization: The Sudd Institute
Type: Special Reports
Date: 28/01/2014
Publication Summary
This study seeks to examine how structural factors, customary laws and traditional practices, and economic hardships shape women's status and hinder their effective participation in leadership positions in South Sudan. By doing so, the study identifies some of the socio-cultural, economic, legal, educational and political conditions, which lead to gender inequality in South Sudan. It proposes strategies for addressing gender disparities in many aspects of South Sudanese society for the betterment of women's condition, and achievement of gender equality in South Sudan.
During the course of this study various research approaches were utilized for data collection. These include the review of relevant existing literature, government documents and policy frameworks to identify gaps and areas of concerns. One-on-one interviews were conducted with randomly selected government officials, policy makers and ordinary South Sudanese females and males to understand their experiences and perspectives on issues related to women and gender in South Sudan. In addition to interviews, observation and participant observation methods were used during my visits to public schools, Juba Teaching hospital, the University of Juba, market places, and social gatherings.
Focus group meetings were held with the following associations: the Ayiki Farmer's Association in Yei River County whose members include both women and men; the Lo'bonog Women Association in Lo'bonog Payam and Rabita Salam Wa Muhaba based in Gu'dele residential area in Juba. The main purpose of the focus group meetings was to elicit data on socio-cultural norms, and to acquire broad perspectives on issues and concerns.
The study is divided into four interrelated sections. First, it analyzes concepts and themes such as gender, gender configurations, gender mainstreaming, and gender equality to set the context for the discussion of women's conditions in South Sudan. Second, the study identifies and examines some barriers to women's participation in public sphere, ranging from social, cultural, economic, legal and political. Third, it critically addresses women's political participation and in particular the 25% women's representation in all levels of government, identifying its benefits and shortcomings. This section also analyzes the challenges of achieving gender mainstreaming and the 25% affirmative action for women. Fourth, the study concludes by outlining policy recommendations for the promotion of gender mainstreaming to ensure gender equality in South Sudan. 
The research findings reveal the following issues and concerns pertaining to women's conditions and gender issues in South Sudan:
High illiteracy rates among women and the prevalence of sociocultural perceptions that devalue girls' education hinder women's participation in politics and other public affairs of the country. 
Women in South Sudan face numerous health challenges ranging from difficulties accessing health care facilities, particularly in rural areas, poor health facilities and limited access to doctors and medication.
Poverty and food insecurity in South Sudan represent major challenges facing women, making it difficult for low-income families and those residing in the rural areas to sustain their livelihoods.
Practices such as early marriage and gender-based violence are widespread in South Sudan, mainly due to unclear and varied definitions of an adult across many ethnic groups, the availability of small arms making possible forced and early marriages, as well as non-specification of the minimal legal age for marriage in the Transitional Constitution.
The gendered division of labor in South Sudan places heavy burden on women's shoulders, making it difficult for women to engage effectively in activities beyond the household such as in politics and organizational work.
Women in South Sudan face obstacles accessing the justice system due to the dictates of customs and traditions, as well as a general lack of financial resources to file legal claims.
Many gender-oriented policies in South Sudan are not implemented, and others are still in draft form. Also the Gender Focal Points or departments created by the Ministry of Gender, Child, and Social Welfare in various government institutions are inadequately funded. Thus, the lack of implementation is hindering women from playing effective roles in promoting gender mainstreaming in all government institutions. Also women's differentiated personal locations represent another obstacle to women's unity.
Affirmative action for women's representation has both benefits and shortcomings. The benefits range from increased number of women in government institutions, changes in institutional culture, and the emergence of the centrality of women and gender issues in national debates. Some of its shortcomings include the likelihood of tokenism, emphasis on numeral representation, power of party patronage, and disregard of the domestic productive and reproductive responsibilities of women. 
This study proposes several policy recommendations to address the challenges facing women, and for the achievement of gender equality in South Sudan. Some of the policy recommendations include:
Reduction of high illiteracy rates among women through investment in education; strengthening existing Ministry of Education, Science and Technology's "Alternative Education System" that aims to assist out-of-school learners – children and adults to gain knowledge and skills for productive life; and establishment of independent adult literacy programs to increase adult literacy rates in English, Arabic and various national languages of South Sudan. 
Improving the health care system and developing infrastructure to improve access and ensure better living conditions for women and their families.
Specification of the appropriate age of marriage in the constitution, and ensuring law enforcement to combat early marriage and gender-based violence.
Redefinition of gender division of labor, investment in early childhood day care particularly in urban areas, and improvement of basic services in cities as well as in rural communities to ensure women's enrolment and retention in school, as well as to lessen women's workload. 
Strengthening of all Gender Focal Points for the promotion of gender mainstreaming to safeguard gender equality in South Sudan.
Moving beyond the 25% numeral representation of women to delivering services and developing mechanisms to improve women's education and economic situation for the betterment of their chances to compete in the public arena.
Researching and documenting women and gender history is crucial for effective policy design, and for inclusion of women's experiences, contributions, and achievements in educational curriculum.
Improving women's access to the legal system by establishing institutions that collect and document cases of gender-based violence, training of female legal professionals, and provision of legal aid programs for women seeking justice.
Establishing a gender program within universities and research institutes such as the Sudd Institute to conduct research on women and gender issues to shape public policy and influence implementation.  
Dr. Jane Kani Edward is the Gender Research Fellow at the Sudd Institute. She was born and raised in Southern Sudan, and educated in Sudan, Egypt and Canada. Edward received her Ph.D. in Sociology of Education from the University of Toronto in 2004. Currently she is a Clinical Assistant Professor and Director of African Immigration Research, Department of African and African American Studies, Fordham University. She teaches courses on African history, women in Africa and contemporary African immigration to the United States. Edward's areas of research interest center on refugee and immigrant women's experience, human rights and education, gender, race, class and representation, gender issues in conflict and post-conflict situations, and African immigration to the United States. Dr. Edward carried out research work among Southern Sudanese refugees and internally displaced persons in Egypt, Uganda and Southern Sudan. She is the author of Sudanese Women Refugees: Transformations and Future Imaginings, 2007, and several book chapters and articles.