Truth and Reconciliation in South Sudan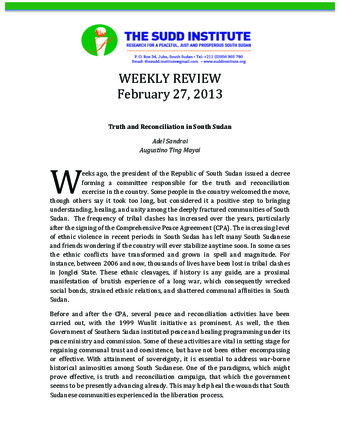 Authors: Adel Sandrai, Augustino Ting Mayai
Organization: The Sudd Institute
Type: Weekly Reviews
Date: 27/02/2013
Publication Summary
Weeks ago, the president of the Republic of South Sudan issued a decree forming a committee responsible for the truth and reconciliation exercise in the country. Some people in the country welcomed the move, though others say it took too long, but considered it a positive step to bringing understanding, healing, and unity among the deeply fractured communities of South Sudan.  The frequency of tribal clashes has increased over the years, particularly after the signing of the Comprehensive Peace Agreement (CPA). The increasing level of ethnic violence in recent periods in South Sudan has left many South Sudanese and friends wondering if the country will ever stabilize anytime soon. In some cases the ethnic conflicts have transformed and grown in spell and magnitude. For instance, between 2006 and now, thousands of lives have been lost in tribal clashes in Jonglei State. These ethnic cleavages, if history is any guide, are a proximal manifestation of brutish experience of a long war, which consequently wrecked social bonds, strained ethnic relations, and shattered communal affinities in South Sudan. 
Before and after the CPA, several peace and reconciliation activities have been carried out, with the 1999 Wunlit initiative as prominent. As well, the then Government of Southern Sudan instituted peace and healing programming under its peace ministry and commission. Some of these activities are vital in setting stage for regaining communal trust and coexistence, but have not been either encompassing or effective. With attainment of sovereignty, it is essential to address war-borne historical animosities among South Sudanese. One of the paradigms, which might prove effective, is truth and reconciliation campaign, that which the government seems to be presently advancing already. This may help heal the wounds that South Sudanese communities experienced in the liberation process.
As a critical step toward realizing stability in the country, such an initiative could be promising, thanks to the republic's vice president. This week, the Sudd Institute reviews popular feeling and the process underlying this newly inaugurated reconciliation initiative, and suggests probable insights into effectively promoting it. 
Augustino Ting Mayai's Biography
Augustino Ting Mayai is the Managing Director of the Sudd Institute. He is a founding Research Director of the same institution, serving in this capacity for a decade. He holds a Ph.D. in Sociology, with concentrations on demography and development from the University of Wisconsin-Madison. He currently studies how state effectiveness affects child health outcomes in South Sudan and Ethiopia. Dr. Mayai has written extensively on South Sudan's current affairs.