An Emerging Diplomatic Row between Uganda and South Sudan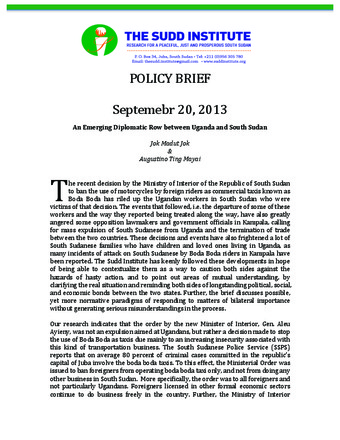 Authors: Jok Madut Jok, Augustino Ting Mayai
Organization: The Sudd Institute
Type: Policy Briefs
Date: 20/09/2013
Publication Summary
The recent decision by the Ministry of Interior of the Republic of South Sudan to ban the use of motorcycles by foreign riders as commercial taxis known as Boda Boda has riled up the Ugandan workers in South Sudan who were victims of that decision. The events that followed, i.e. the departure of some of these workers and the way they reported being treated along the way, have also greatly angered some opposition lawmakers and government officials in Kampala, calling for mass expulsion of South Sudanese from Uganda and the termination of trade between the two countries. These decisions and events have also frightened a lot of South Sudanese families who have children and loved ones living in Uganda, as many incidents of attack on South Sudanese by Boda Boda riders in Kampala have been reported. The Sudd Institute has keenly followed these developments in hope of being able to contextualize them as a way to caution both sides against the hazards of hasty action, and to point out areas of mutual understanding, by clarifying the real situation and reminding both sides of longstanding political, social, and economic bonds between the two states. Further, the brief discusses possible, yet more normative paradigms of responding to matters of bilateral importance without generating serious misunderstandings in the process.
Jok Madut Jok is trained in the anthropology of health and holds a Ph.D. from the University of California, Los Angeles (UCLA). He is a fellow of Rift Valley Institute and Director of the Sudd Institute. Jok has held fellowship positions at a number of other institutions, including the United States Institute of Peace and the Woodrow Wilson International Center for Scholars. He also served in the Government of South Sudan as undersecretary in the Ministry of Culture and Heritage for three years. He has also worked in aid and development and author of four books and numerous articles covering gender, sexuality and reproductive health, humanitarian aid, ethnography of political violence, gender-based violence, war and slavery, and the politics of identity in South Sudan and Sudan. His book Breaking Sudan: The Search for Peace, was published in 2017 by OneWorld.
Augustino Ting Mayai's Biography
Augustino Ting Mayai is the Managing Director of the Sudd Institute. He is a founding Research Director of the same institution, serving in this capacity for a decade. He holds a Ph.D. in Sociology, with concentrations on demography and development from the University of Wisconsin-Madison. He currently studies how state effectiveness affects child health outcomes in South Sudan and Ethiopia. Dr. Mayai has written extensively on South Sudan's current affairs.