Bashir's Official Visit: What It Means for the two Sudans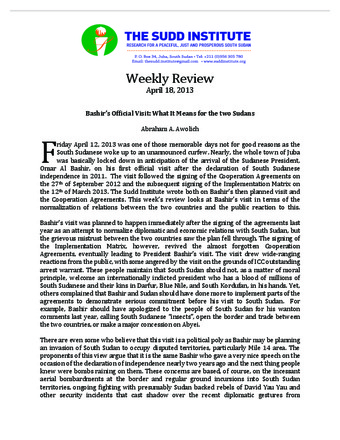 Author: Abraham Awolich
Organization: The Sudd Institute
Type: Weekly Reviews
Date: 18/04/2013
Publication Summary
Bashir's visit was planned to happen immediately after the signing of the agreements last year as an attempt to normalize diplomatic and economic relations with South Sudan, but the grievous mistrust between the two countries saw the plan fell through. The signing of the Implementation Matrix, however, revived the almost forgotten Cooperation Agreements, eventually leading to President Bashir's visit. The visit drew wide-ranging reactions from the public, with some angered by the visit on the grounds of ICC outstanding arrest warrant. These people maintain that South Sudan should not, as a matter of moral principle, welcome an internationally indicted president who has a blood of millions of South Sudanese and their kins in Darfur, Blue Nile, and South Kordufan, in his hands. Yet, others complained that Bashir and Sudan should have done more to implement parts of the agreements to demonstrate serious commitment before his visit to South Sudan.  For example, Bashir should have apologized to the people of South Sudan for his wanton comments last year, calling South Sudanese "insects", open the border and trade between the two countries, or make a major concession on Abyei.
This week's review looks at Bashir's visit in terms of the normalization of relations between the two countries and the public reaction to this. 
Abraham Awolich is the former Managing Director of the Sudd Institute. Awolich's research has focused on management of development organizations working in conflict mitigation, governance and business management. Awolich is the co-founder of the Sudan Development Foundation and the former Executive Director of New Sudan Education Initiative (NESEI). Previous to joining the Sudd Institute, Awolich helped establish a secondary school in Yei and a medical clinic in Kalthok, Awerial County. Awolich has a Master's Degree in Pubic Administration from the Maxwell School of Citizenship and Public Affairs at Syracuse University and Bachelor's Degree from the University of Vermont in Anthropology and Business Administration. Awolich is a McNair Scholar and winner of the prestigious Samuel Huntington Public Service Award in 2006.