Borders, Bombs and Sudan-South Sudan Unworkable Agreements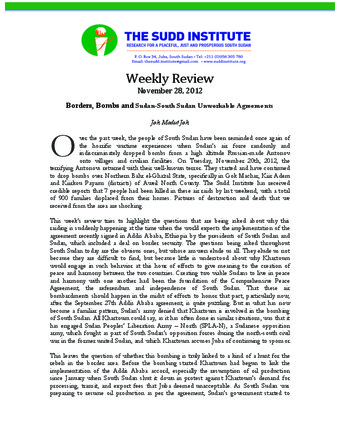 Author: Jok Madut Jok
Organization: The Sudd Institute
Type: Weekly Reviews
Date: 28/11/2012
Publication Summary
Over the past week, the people of South Sudan have been reminded once again of the horrific wartime experiences when Sudan's air force randomly and indiscriminately dropped bombs from a high altitude Russian-made Antonov onto villages and civilian facilities near the Sudan-South Sudan Border. 
This week's review tries to highlight the questions that are being asked about why this raiding is suddenly happening at the time when the world expects the implementation of the agreement recently signed in Addis Ababa, Ethiopia by the presidents of South Sudan and Sudan, which included a deal on border security. 
Jok Madut Jok is trained in the anthropology of health and holds a Ph.D. from the University of California, Los Angeles (UCLA). He is a fellow of Rift Valley Institute and Director of the Sudd Institute. Jok has held fellowship positions at a number of other institutions, including the United States Institute of Peace and the Woodrow Wilson International Center for Scholars. He also served in the Government of South Sudan as undersecretary in the Ministry of Culture and Heritage for three years. He has also worked in aid and development and author of four books and numerous articles covering gender, sexuality and reproductive health, humanitarian aid, ethnography of political violence, gender-based violence, war and slavery, and the politics of identity in South Sudan and Sudan. His book Breaking Sudan: The Search for Peace, was published in 2017 by OneWorld.