Clashes in Wau: A Testament to Fragility of Ethnic Relations in South Sudan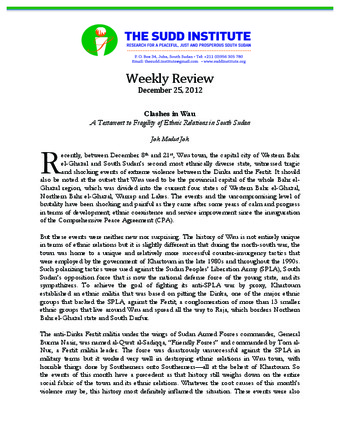 Author: Jok Madut Jok
Organization: The Sudd Institute
Type: Weekly Reviews
Date: 25/12/2012
Publication Summary
Recently, between December 8th and 21st, Wau town, the capital city of Western Bahr el-Ghazal and South Sudan's second most ethnically diverse state, witnessed tragic and shocking events of extreme violence between the Dinka and the Fertit. It should also be noted at the outset that Wau used to be the provincial capital of the whole Bahr el-Ghazal region, which was divided into the current four states of Western Bahr el-Ghazal, Northern Bahr el-Ghazal, Warrap and Lakes. The events and the uncompromising level of brutality have been shocking and painful as they came after some years of calm and progress in terms of development, ethnic coexistence and service improvement since the inauguration of the Comprehensive Peace Agreement (CPA). 
This weekly review attempts to put these events in the context of South Sudan's recent past, describes the human toll and what needs to be done to avoid the repeat of such events anywhere in the country.
Jok Madut Jok is trained in the anthropology of health and holds a Ph.D. from the University of California, Los Angeles (UCLA). He is a fellow of Rift Valley Institute and Director of the Sudd Institute. Jok has held fellowship positions at a number of other institutions, including the United States Institute of Peace and the Woodrow Wilson International Center for Scholars. He also served in the Government of South Sudan as undersecretary in the Ministry of Culture and Heritage for three years. He has also worked in aid and development and author of four books and numerous articles covering gender, sexuality and reproductive health, humanitarian aid, ethnography of political violence, gender-based violence, war and slavery, and the politics of identity in South Sudan and Sudan. His book Breaking Sudan: The Search for Peace, was published in 2017 by OneWorld.