Embattled for Legitimacy: GoSS and the 2015 Elections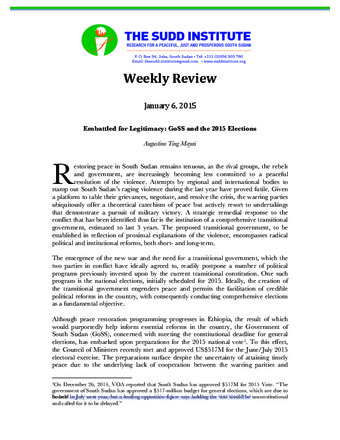 Author: Augustino Ting Mayai
Organization: The Sudd Institute
Type: Weekly Reviews
Date: 06/01/2015
Publication Summary
Restoring peace in South Sudan remains tenuous, as the rival groups, the rebels and government, are increasingly becoming less committed to a peaceful resolution of the violence. Attempts by regional and international bodies to stamp out South Sudan's raging violence during the last year have proved futile. Given a platform to table their grievances, negotiate, and resolve the crisis, the warring parties ubiquitously offer a theoretical catechism of peace but actively resort to undertakings that demonstrate a pursuit of military victory. A strategic remedial response to the conflict that has been identified thus far is the institution of a comprehensive transitional government, estimated to last 3 years. The proposed transitional government, to be established in reflection of proximal explanations of the violence, encompasses radical political and institutional reforms, both short- and long-term.
The emergence of the new war and the need for a transitional government, which the two parties in conflict have ideally agreed to, readily postpone a number of political programs previously invested upon by the current transitional constitution. One such program is the national elections, initially scheduled for 2015. Ideally, the creation of the transitional government engenders peace and permits the facilitation of credible political reforms in the country, with consequently conducting comprehensive elections as a fundamental objective.   
Although peace restoration programming progresses in Ethiopia, the result of which would purportedly help inform essential reforms in the country, the Government of South Sudan (GoSS), concerned with meeting the constitutional deadline for general elections, has embarked upon preparations for the 2015 national vote. To this effect, the Council of Ministers recently met and approved US$517M for the June/July 2015 electoral exercise. The preparations surface despite the uncertainty of attaining timely peace due to the underlying lack of cooperation between the warring parities and ultimately undermine the transformative role for which the proposed transitional government has been earmarked.  
This weekly review analyzes the recent GoSS' announcement to conduct general elections in 2015. We primarily confer upon legality, feasibility, and political implications that underlie this exercise. Given time constraints and ongoing instability, we suggest that national elections are not merited for at least 3 years. 
Augustino Ting Mayai's Biography
Augustino Ting Mayai is the Managing Director of the Sudd Institute. He is a founding Research Director of the same institution, serving in this capacity for a decade. He holds a Ph.D. in Sociology, with concentrations on demography and development from the University of Wisconsin-Madison. He currently studies how state effectiveness affects child health outcomes in South Sudan and Ethiopia. Dr. Mayai has written extensively on South Sudan's current affairs.