Emerging Powers and the Responsibility to Prevent Mass Atrocities: Lessons from South Sudan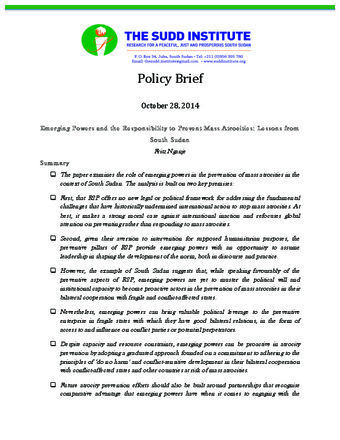 Author: Fritz Nganje
Organization: The Sudd Institute
Type: Policy Briefs
Date: 28/10/2014
Publication Summary
The paper examines the role of emerging powers in the prevention of mass atrocities in the context of South Sudan. The analysis is built on two key premises:

 
First, that R2P offers no new legal or political framework for addressing the fundamental challenges that have historically undermined international action to stop mass atrocities.At best, it makes a strong moral case against international inaction and refocuses global attention on preventing rather than responding to mass atrocities.
Second, given their aversion to intervention for supposed humanitarian purposes, the preventive pillars of R2P provide emerging powers with an opportunity to assume leadership in shaping the development of the norm, both in discourse and practice.
However, the example of South Sudan suggests that, while speaking favourably of the preventive aspects of R2P, emerging powers are yet to muster the political will and institutional capacity to become proactive actors in the prevention of mass atrocities in their bilateral cooperation with fragile and conflict-affected states.
Nevertheless, emerging powers can bring valuable political leverage to the preventive enterprise in fragile states with which they have good bilateral relations, in the form of access to and influence on conflict parties or potential perpetrators.
Despite capacity and resource constraints, emerging powers can be proactive in atrocity prevention by adopting a graduate approach founded on a commitment to adhering to the principles of 'do no harm' and conflict-sensitive development in their bilateral cooperation with conflict-affected states and other countries at risk of mass atrocities.
Future atrocity prevention efforts should also be built around partnerships that recognise comparative advantage that emerging powers have when it comes to engaging with the political elite in conflict-affected countries, as well as the early warning capacity of civil society organizations.
Entrenching a culture of mass atrocity prevention will also benefit from improved public conversations on the agenda both in conflict-affected and other African states at risk and in those developing countries considered to be emerging powers.
Dr. Fritz Nganje is a Postdoctoral Research Fellow with the South African Research Chair in African Diplomacy and Foreign Policy at the University of Johannesburg. This paper is the product of a research fellowship at the Sudd Institute in Juba, South Sudan, in August 2014 under the Nexus Fund's Civil Society Exchange Program, while the author was still affiliated to the Pretoria-based Institute for Global Dialogue.