Federal Democracy: A Strategic Institutional Choice for South Sudan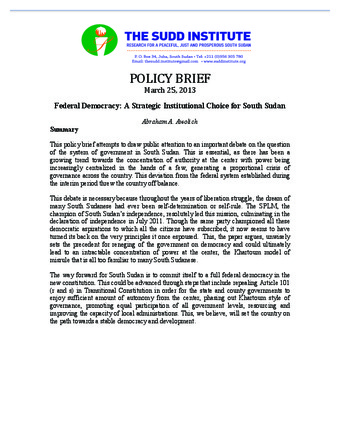 Author: Abraham Awolich
Organization: The Sudd Institute
Type: Policy Briefs
Date: 25/03/2013
Publication Summary
This policy brief attempts to draw public attention to an important debate on the question of the system of government in South Sudan. This is essential, as there has been a growing trend towards the concentration of authority at the center with power being increasingly centralized in the hands of a few, generating a proportional crisis of governance across the country. This deviation from the federal system established during the interim period threw the country off balance.
This debate is necessary because throughout the years of liberation struggle, the dream of many South Sudanese had ever been self-determination or self-rule. The SPLM, the champion of South Sudan's independence, resolutely led this mission, culminating in the declaration of independence in July 2011. Though the same party championed all these democratic aspirations to which all the citizens have subscribed, it now seems to have turned its back on the very principles it once espoused.  This, the paper argues, unwisely sets the precedent for reneging of the government on democracy and could ultimately lead to an intractable concentration of power at the center, the Khartoum model of misrule that is all too familiar to many South Sudanese.
The way forward for South Sudan is to commit itself to a full federal democracy in the new constitution. This could be advanced through steps that include repealing Article 101 (r and s) in order for the state and county governments to enjoy sufficient amount of autonomy from the center, phasing out Khartoum style of governance, promoting equal participation of all government levels, resourcing and improving the capacity of local administrations. This, we believe, will set the country on the path towards a stable democracy and development.
Abraham Awolich is the former Managing Director of the Sudd Institute. Awolich's research has focused on management of development organizations working in conflict mitigation, governance and business management. Awolich is the co-founder of the Sudan Development Foundation and the former Executive Director of New Sudan Education Initiative (NESEI). Previous to joining the Sudd Institute, Awolich helped establish a secondary school in Yei and a medical clinic in Kalthok, Awerial County. Awolich has a Master's Degree in Pubic Administration from the Maxwell School of Citizenship and Public Affairs at Syracuse University and Bachelor's Degree from the University of Vermont in Anthropology and Business Administration. Awolich is a McNair Scholar and winner of the prestigious Samuel Huntington Public Service Award in 2006.