HIV/AIDS: A Threat to National Security in South Sudan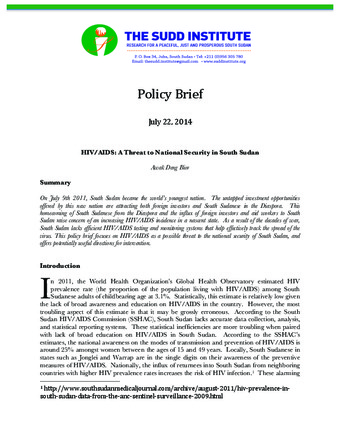 Author: Awak Deng Bior
Organization: The Sudd Institute
Type: Policy Briefs
Date: 22/07/2014
Publication Summary
On July 9th 2011, South Sudan became the world's youngest nation.  The untapped investment opportunities offered by this new nation are attracting both foreign investors and South Sudanese in the Diaspora.  This homecoming of South Sudanese from the Diaspora and the influx of foreign investors and aid workers to South Sudan raise concern of an increasing HIV/AIDS incidence in a nascent state.  As a result of the decades of war, South Sudan lacks efficient HIV/AIDS testing and monitoring systems that help effectively track the spread of the virus. This policy brief focuses on HIV/AIDS as a possible threat to the national security of South Sudan, and offers potentially useful directions for intervention.
Awak Deng Bior is a deputy administrator at the Sudd Institute. Awak has experience in documenting, tracking, reporting, monitoring, and evaluation. As well, Awak has a B.A in Biology from the University of Texas at Dallas and is the founder of cushaids.org, an informative website that provides HIV/AIDS awareness among South Sudanese.

Awak is currently on a study leave.