Inclusivity: A Challenge to the IGAD-Led South Sudanese Peace Process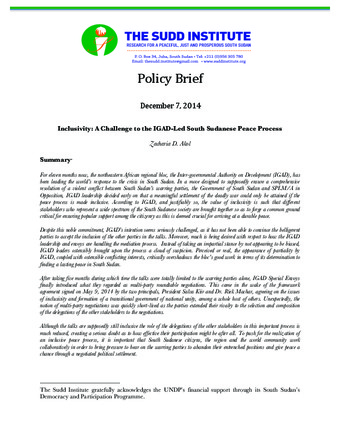 Organization: The Sudd Institute
Type: Policy Briefs
Date: 07/12/2014
Publication Summary
For eleven months now, the northeastern African regional bloc, the Inter-governmental Authority on Development (IGAD), has been leading the world's response to the crisis in South Sudan. In a move designed to supposedly ensure a comprehensive resolution of a violent conflict between South Sudan's warring parties, the Government of South Sudan and SPLM/A in Opposition, IGAD leadership decided early on that a meaningful settlement of the deadly war could only be attained if the peace process is made inclusive. According to IGAD, and justifiably so, the value of inclusivity is such that different stakeholders who represent a wide spectrum of the South Sudanese society are brought together so as to forge a common ground critical for ensuring popular support among the citizenry as this is deemed crucial for arriving at a durable peace.
Despite this noble commitment, IGAD's intention seems seriously challenged, as it has not been able to convince the belligerent parties to accept the inclusion of the other parties in the talks. Moreover, much is being desired with respect to how the IGAD leadership and envoys are handling the mediation process.  Instead of taking an impartial stance by not appearing to be biased, IGAD leaders ostensibly brought upon the process a cloud of suspicion. Perceived or real, the appearance of partiality by IGAD, coupled with ostensible conflicting interests, critically overshadows the bloc's good work in terms of its determination to finding a lasting peace in South Sudan.
After taking five months during which time the talks were totally limited to the warring parties alone, IGAD Special Envoys finally introduced what they regarded as multi-party roundtable negotiations. This came in the wake of the framework agreement signed on May 9, 2014 by the two principals, President Salva Kiir and Dr. Riek Machar, agreeing on the issues of inclusivity and formation of a transitional government of national unity, among a whole host of others. Unexpectedly, the notion of multi-party negotiations was quickly short-lived as the parties extended their rivalry to the selection and composition of the delegations of the other stakeholders to the negotiations.
Although the talks are supposedly still inclusive the role of the delegations of the other stakeholders in this important process is much reduced, creating a serious doubt as to how effective their participation might be after all. To push for the realization of an inclusive peace process, it is important that South Sudanese citizens, the region and the world community work collaboratively in order to bring pressure to the warring parties to abandon their entrenched positions and give peace a chance through a negotiated political settlement.