Insecurity and Ethnic Violence in South Sudan: Existential Threats to State?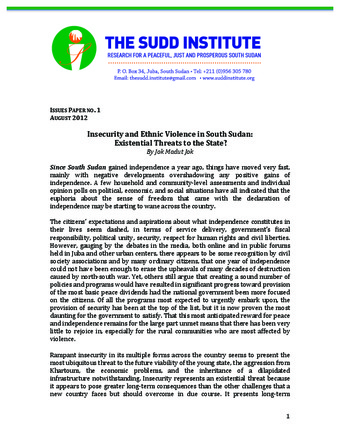 Author: Jok Madut Jok
Organization: The Sudd Institute
Type: Dialogue briefs
Date: 20/08/2012
Publication Summary
Since South Sudan gained independence a year ago, things have moved very fast, mainly with negative developments overshadowing any positive gains of independence. A few household and community-level assessments and individual opinion polls on political, economic, and social situations have all indicated that the euphoria about the sense of freedom that came with the declaration of independence may be starting to wane across the country.
Jok Madut Jok is trained in the anthropology of health and holds a Ph.D. from the University of California, Los Angeles (UCLA). He is a fellow of Rift Valley Institute and Director of the Sudd Institute. Jok has held fellowship positions at a number of other institutions, including the United States Institute of Peace and the Woodrow Wilson International Center for Scholars. He also served in the Government of South Sudan as undersecretary in the Ministry of Culture and Heritage for three years. He has also worked in aid and development and author of four books and numerous articles covering gender, sexuality and reproductive health, humanitarian aid, ethnography of political violence, gender-based violence, war and slavery, and the politics of identity in South Sudan and Sudan. His book Breaking Sudan: The Search for Peace, was published in 2017 by OneWorld.