Managing the Communal Violence in Tonj East County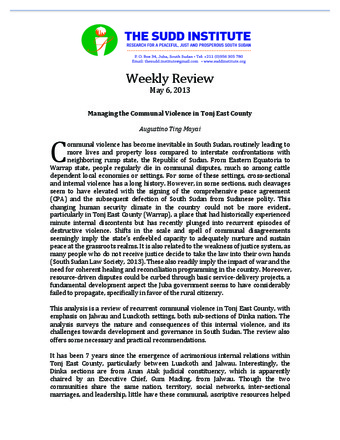 Author: Augustino Ting Mayai
Organization: The Sudd Institute
Type: Weekly Reviews
Date: 06/05/2013
Publication Summary
It has been 7 years since the emergence of acrimonious internal relations within Tonj East County, particularly between Luackoth and Jalwau. Interestingly, the Dinka sections are from Anan Atak judicial constituency, which is apparently chaired by an Executive Chief, Gum Mading, from Jalwau. Though the two communities share the same nation, territory, social networks, inter-sectional marriages, and leadership, little have these communal, ascriptive resources helped restrain the groups from engaging in prolonged detrimental confrontations. In fact, one of the recent skirmishes resulted in a death of the executive chief's son, attracting even more retributions from this section. Nearly a decade since the commencement of considerably souring relations in these two communities and the ensuing disastrous effects on both sides, the proximal motivation has been competition over grazing land. This is consistent with other experiences in the country, particularly in Eastern Equatoria, Lakes, and Jonglei states where combined death statistics associated with communal disputes are in thousands.
This analysis is a review of recurrent communal violence in Tonj East County, with emphasis on Jalwau and Luackoth settings, both sub-sections of Dinka nation. The analysis surveys the nature and consequences of this internal violence, and its challenges towards development and governance in South Sudan. The review also offers some necessary and practical recommendations.      
Augustino Ting Mayai's Biography
Augustino Ting Mayai is the Managing Director of the Sudd Institute. He is a founding Research Director of the same institution, serving in this capacity for a decade. He holds a Ph.D. in Sociology, with concentrations on demography and development from the University of Wisconsin-Madison. He currently studies how state effectiveness affects child health outcomes in South Sudan and Ethiopia. Dr. Mayai has written extensively on South Sudan's current affairs.