A Fallacy of Failed States Index: The Case of South Sudan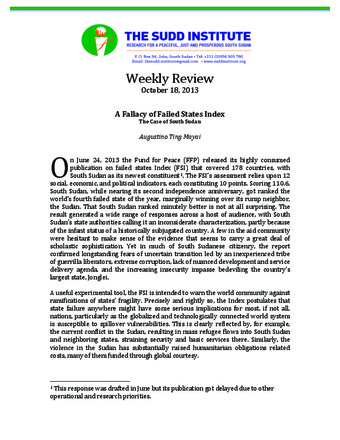 Author: Augustino Ting Mayai
Organization: The Sudd Institute
Type: Weekly Reviews
Date: 18/10/2013
Publication Summary
A useful experimental tool, the FSI is intended to warn the world community against ramifications of states' fragility. Precisely and rightly so, the Index postulates that state failure anywhere might have some serious implications for most, if not all, nations, particularly as the globalized and technologically connected world system is susceptible to spillover vulnerabilities. This is clearly reflected by, for example, the current conflict in the Sudan, resulting in mass refugee flows into South Sudan and neighboring states, straining security and basic services there. Similarly, the violence in the Sudan has substantially raised humanitarian obligations related costs, many of them funded through global courtesy.
This response suggests that the inclusion of South Sudan in the Index was imprudent because of the new country's historical relation to a rogue state of the Sudan.
Augustino Ting Mayai's Biography
Augustino Ting Mayai is the Managing Director of the Sudd Institute. He is a founding Research Director of the same institution, serving in this capacity for a decade. He holds a Ph.D. in Sociology, with concentrations on demography and development from the University of Wisconsin-Madison. He currently studies how state effectiveness affects child health outcomes in South Sudan and Ethiopia. Dr. Mayai has written extensively on South Sudan's current affairs.