Political Parties and the Push for Political Consensus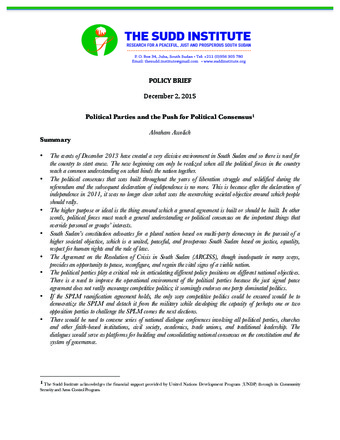 Author: Abraham Awolich
Organization: The Sudd Institute
Type: Policy Briefs
Date: 02/12/2015
Publication Summary
The events of December 2013 have created a very divisive environment in South Sudan and so there is need for the country to start anew. The new beginning can only be realized when all the political forces in the country reach a common understanding on what binds the nation together.
The political consensus that was built throughout the years of liberation struggle and solidified during the referendum and the subsequent declaration of independence is no more. This is because after the declaration of independence in 2011, it was no longer clear what was the overarching societal objective around which people should rally.
The higher purpose or ideal is the thing around which a general agreement is built or should be built. In other words, political forces must reach a general understanding or political consensus on the important things that override personal or groups' interests.
South Sudan's constitution advocates for a plural nation based on multi-party democracy in the pursuit of a higher societal objective, which is a united, peaceful, and prosperous South Sudan based on justice, equality, respect for human rights and the rule of law.
The Agreement on the Resolution of Crisis in South Sudan (ARCISS), though inadequate in many ways, provides an opportunity to pause, reconfigure, and regain the vital signs of a viable nation.
The political parties play a critical role in articulating different policy positions on different national objectives. There is a need to improve the operational environment of the political parties because the just signed peace agreement does not really encourage competitive politics; it seemingly endorses one party dominated politics.
If the SPLM reunification agreement holds, the only way competitive politics could be ensured would be to democratize the SPLM and detach it from the military while developing the capacity of perhaps one or two opposition parties to challenge the SPLM comes the next elections.
There would be need to convene series of national dialogue conferences involving all political parties, churches and other faith-based institutions, civil society, academics, trade unions, and traditional leadership. The dialogues would serve as platforms for building and consolidating national consensus on the constitution and the system of governance.
Abraham Awolich is the former Managing Director of the Sudd Institute. Awolich's research has focused on management of development organizations working in conflict mitigation, governance and business management. Awolich is the co-founder of the Sudan Development Foundation and the former Executive Director of New Sudan Education Initiative (NESEI). Previous to joining the Sudd Institute, Awolich helped establish a secondary school in Yei and a medical clinic in Kalthok, Awerial County. Awolich has a Master's Degree in Pubic Administration from the Maxwell School of Citizenship and Public Affairs at Syracuse University and Bachelor's Degree from the University of Vermont in Anthropology and Business Administration. Awolich is a McNair Scholar and winner of the prestigious Samuel Huntington Public Service Award in 2006.