Recent Killing in Abyei: Its Implications on the Relations between the two Sudans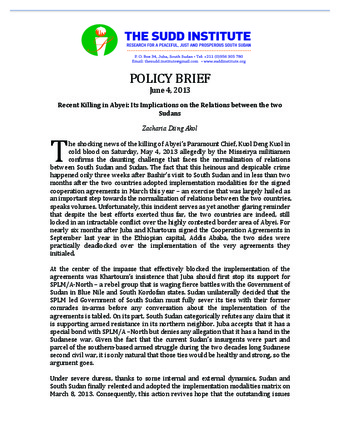 Author: Zacharia Diing Akol
Organization: The Sudd Institute
Type: Policy Briefs
Date: 04/06/2013
Publication Summary
The shocking news of the killing of Abyei's Paramount Chief, Kuol Deng Kuol in cold blood on Saturday, May 4, 2013 allegedly by the Misseirya militiamen confirms the daunting challenge that faces the normalization of relations between South Sudan and Sudan. The fact that this heinous and despicable crime happened only three weeks after Bashir's visit to South Sudan and in less than two months after the two countries adopted implementation modalities for the signed cooperation agreements in March this year – an exercise that was largely hailed as an important step towards the normalization of relations between the two countries, speaks volumes. Unfortunately, this incident serves as yet another glaring reminder that despite the best efforts exerted thus far, the two countries are indeed, still locked in an intractable conflict over the highly contested border area of Abyei. For nearly six months after Juba and Khartoum signed the Cooperation Agreements in September last year in the Ethiopian capital, Addis Ababa, the two sides were practically deadlocked over the implementation of the very agreements they initialed. 
Zacharia Diing Akol's Biography
Zacharia Diing Akol is the Director of Training at the Sudd Institute. Diing has extensive experience in community outreach, government and organizational leadership. He is currently working on M.Res./Ph.D. in political science at the London School of Economics. Diing's research interests include the role of civil society organizations in peacebuilding, traditional leadership and democratic governance, post-conflict reconstruction, faith and public policy, and the dynamics of civil war.

Before co-founding the Sudd Institute Diing served as a consultant for the Government of South Sudan, evaluating parliamentary activities and government programs. He was also a Transitional Justice Fellow at the Institute for Justice and Reconciliation in Cape Town, South Africa, a Project Luke Fellow at the Overseas Ministries Studies Center in New Haven, Connecticut, USA. Diing has facilitated short courses on conflict resolution, peace building, leadership and administration in Grand Rapids, Michigan, USA, Malakal and Renk, South Sudan and given public lectures on Sudan and South Sudan at numerous universities across the United States.

Diing holds a Master's degree in Peace and Justice Studies from the University of San Diego and two Bachelor's degrees from Michigan State University in Public Policy & Administration and Policy & Applied Economics.