Restructuring the South Sudanese Federal Government: Political or Human Factor?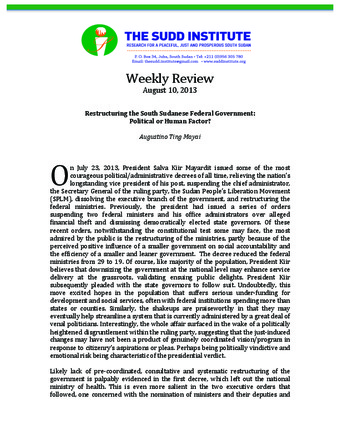 Author: Augustino Ting Mayai
Organization: The Sudd Institute
Type: Weekly Reviews
Date: 10/08/2013
Publication Summary
On July 23, 2013, President Salva Kiir Mayardit issued some of the most courageous political/administrative decrees of all time, relieving the nation's longstanding vice president of his post, suspending the chief administrator, the Secretary General of the ruling party, the Sudan People's Liberation Movement (SPLM), dissolving the executive branch of the government, and restructuring the federal ministries. Previously, the president had issued a series of orders suspending two federal ministers and his office administrators over alleged financial theft and dismissing democratically elected state governors. Of these recent orders, notwithstanding the constitutional test some may face, the most admired by the public is the restructuring of the ministries, partly because of the perceived positive influence of a smaller government on social accountability and the efficiency of a smaller and leaner government.  The decree reduced the federal ministries from 29 to 19. Of course, like majority of the population, President Kiir believes that downsizing the government at the national level may enhance service delivery at the grassroots, validating ensuing public delights. President Kiir subsequently pleaded with the state governors to follow suit. Undoubtedly, this move excited hopes in the population that suffers serious under-funding for development and social services, often with federal institutions spending more than states or counties. Similarly, the shakeups are praiseworthy in that they may eventually help streamline a system that is currently administered by a great deal of venal politicians. Interestingly, the whole affair surfaced in the wake of a politically heightened disgruntlement within the ruling party, suggesting that the just-induced changes may have not been a product of genuinely coordinated vision/program in response to citizenry's aspirations or pleas. Perhaps being politically vindictive and emotional risk being characteristic of the presidential verdict.
This review responds mainly to the presidential decree on the restructuring of the government, focusing primarily on the nature of the decision, the meaning of the reduced size of the government, and the political implications of the second decree.
Augustino Ting Mayai's Biography
Augustino Ting Mayai is the Managing Director of the Sudd Institute. He is a founding Research Director of the same institution, serving in this capacity for a decade. He holds a Ph.D. in Sociology, with concentrations on demography and development from the University of Wisconsin-Madison. He currently studies how state effectiveness affects child health outcomes in South Sudan and Ethiopia. Dr. Mayai has written extensively on South Sudan's current affairs.