Resumption of Oil Production in South Sudan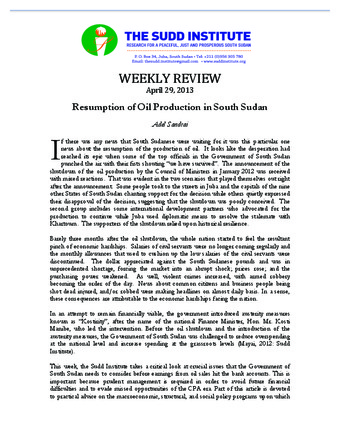 Author: Adel Sandrai
Organization: The Sudd Institute
Date: 23/04/2013
Publication Summary
Barely three months after the oil shutdown, the whole nation started to feel the resultant pinch of economic hardships. Salaries of civil servants were no longer coming regularly and the monthly allowances that used to cushion up the low salaries of the civil servants were discontinued. The dollar appreciated against the South Sudanese pounds and was in unprecedented shortage, forcing the market into an abrupt shock; prices rose; and the purchasing power weakened. As well, violent crimes increased, with armed robbery becoming the order of the day. News about common citizens and business people being shot dead injured, and/or robbed were making headlines on almost daily basis. In a sense, these consequences are attributable to the economic hardships facing the nation.
In an attempt to remain financially viable, the government introduced austerity measures known as "Kostirity", after the name of the national Finance Minister, Hon. Mr. Kosti Manibe, who led the intervention. Before the oil shutdown and the introduction of the austerity measures, the Government of South Sudan was challenged to reduce overspending at the national level and increase spending at the grassroots levels (Mayai, 2012: Sudd Institute).
This week, the Sudd Institute takes a critical look at crucial issues that the Government of South Sudan needs to consider before earnings from oil sales hit the bank accounts. This is important because prudent management is required in order to avoid future financial difficulties and to evade missed opportunities of the CPA era. Part of this article is devoted to practical advice on the macroeconomic, structural, and social policy programs upon which
the money earned from the oil should be spent so as to stimulate development, reduce abject poverty, support private sector growth—all to engender stable South Sudan. 
Download Full Report (1017 KB)