South Sudan: A Politics of Demise or a Vision for Progress?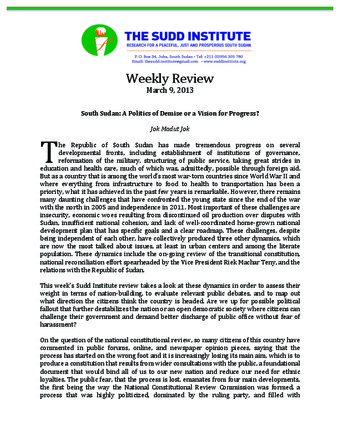 Author: Jok Madut Jok
Organization: The Sudd Institute
Type: Weekly Reviews
Date: 09/03/2013
Publication Summary
The Republic of South Sudan has made tremendous progress on several developmental fronts, including establishment of institutions of governance, reformation of the military, structuring of public service, taking great strides in education and health care, much of which was, admittedly, possible through foreign aid. But as a country that is among the world's most war-torn countries since World War II and where everything from infrastructure to food to health to transportation has been a priority, what it has achieved in the past few years is remarkable. However, there remains many daunting challenges that have confronted the young state since the end of the war with the north in 2005 and independence in 2011. Most important of these challenges are insecurity, economic woes resulting from discontinued oil production over disputes with Sudan, insufficient national cohesion, and lack of well-coordinated home-grown national development plan that has specific goals and a clear roadmap. These challenges, despite being independent of each other, have collectively produced three other dynamics, which are now the most talked about issues, at least in urban centers and among the literate population. These dynamics include the on-going review of the transitional constitution, national reconciliation effort spearheaded by the Vice President Riek Machar Teny, and the relations with the Republic of Sudan.
This week's Sudd Institute review takes a look at these dynamics in order to assess their weight in terms of nation-building, to evaluate relevant public debates, and to map out what direction the citizens think the country is headed. Are we up for possible political fallout that further destabilizes the nation or an open democratic society where citizens can challenge their government and demand better discharge of public office without fear of harassment? 
Jok Madut Jok is cofounder of the Sudd Institute. Born and raised in Sudan, Jok studied in Egypt and the United States. He is trained in the anthropology of health and holds a Ph.D. from the University of California, Los Angeles (UCLA). Jok recently joined the Government of South Sudan as undersecretary in the Ministry of Culture and Heritage. He was a J. Randolph Senior Fellow at the United States Institute of Peace and a fellow at the Rift Valley Institute. He is a Professor in the Department of History at Loyola Marymount University in California, from which he is on an extended leave. He has also worked in aid and development, first as a humanitarian aid worker and has been a consultant for a number of aid agencies. He is the author of three books and numerous articles covering gender, sexuality and reproductive health, humanitarian aid, ethnography of political violence, gender-based violence, war and slavery, and the politics of identity in Sudan. His book Sudan: Race, Religion and Violence, was published in 2007. Jok is co-editor of The Sudan Handbook, 2010.