South Sudan: Do We Have a Culture of Peace?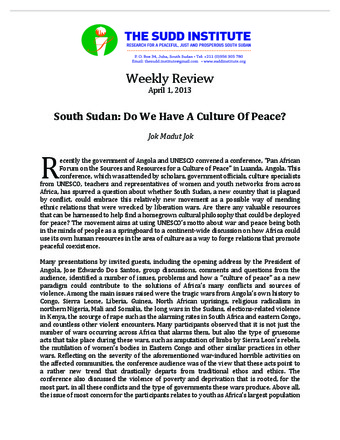 Author: Jok Madut Jok
Organization: The Sudd Institute
Type: Weekly Reviews
Date: 01/04/2013
Publication Summary
Recently the government of Angola and UNESCO convened a conference, "Pan African Forum on the Sources and Resources for a Culture of Peace" in Luanda, Angola. This conference, which was attended by scholars, government officials, culture specialists from UNESCO, teachers and representatives of women and youth networks from across Africa, has spurred a question about whether South Sudan, a new country that is plagued by conflict, could embrace this relatively new movement as a possible way of mending ethnic relations that were wrecked by liberation wars. Are there any valuable resources that can be harnessed to help find a homegrown cultural philosophy that could be deployed for peace?
Jok Madut Jok is trained in the anthropology of health and holds a Ph.D. from the University of California, Los Angeles (UCLA). He is a fellow of Rift Valley Institute and Director of the Sudd Institute. Jok has held fellowship positions at a number of other institutions, including the United States Institute of Peace and the Woodrow Wilson International Center for Scholars. He also served in the Government of South Sudan as undersecretary in the Ministry of Culture and Heritage for three years. He has also worked in aid and development and author of four books and numerous articles covering gender, sexuality and reproductive health, humanitarian aid, ethnography of political violence, gender-based violence, war and slavery, and the politics of identity in South Sudan and Sudan. His book Breaking Sudan: The Search for Peace, was published in 2017 by OneWorld.