South Sudan Retracts its Labor Regulations under Pressure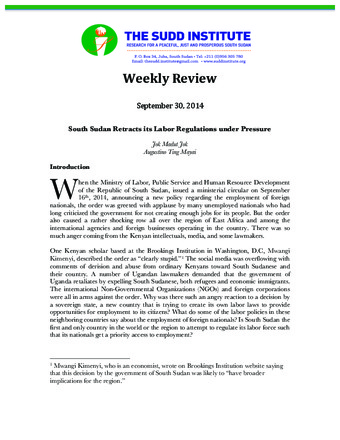 Authors: Jok Madut Jok, Augustino Ting Mayai
Organization: The Sudd Institute
Type: Weekly Reviews
Date: 30/09/2014
Publication Summary
When the Ministry of Labor, Public Service and Human Resource Development of the Republic of South Sudan, issued a ministerial circular on September 16th, 2014, announcing a new policy regarding the employment of foreign nationals, the order was greeted with applause by many unemployed nationals who had long criticized the government for not creating enough jobs for its people. But the order also caused a rather shocking row all over the region of East Africa and among the international agencies and foreign businesses operating in the country. There was so much anger coming from the Kenyan intellectuals, media, and some lawmakers.
This review discusses this new labor regulation, its merits and implications, and the extent to which it has been received in various settings. It also discusses the orthodoxy of policy-making.
Jok Madut Jok is trained in the anthropology of health and holds a Ph.D. from the University of California, Los Angeles (UCLA). He is a fellow of Rift Valley Institute and Director of the Sudd Institute. Jok has held fellowship positions at a number of other institutions, including the United States Institute of Peace and the Woodrow Wilson International Center for Scholars. He also served in the Government of South Sudan as undersecretary in the Ministry of Culture and Heritage for three years. He has also worked in aid and development and author of four books and numerous articles covering gender, sexuality and reproductive health, humanitarian aid, ethnography of political violence, gender-based violence, war and slavery, and the politics of identity in South Sudan and Sudan. His book Breaking Sudan: The Search for Peace, was published in 2017 by OneWorld.
Augustino Ting Mayai's Biography
Augustino Ting Mayai is the Managing Director of the Sudd Institute. He is a founding Research Director of the same institution, serving in this capacity for a decade. He holds a Ph.D. in Sociology, with concentrations on demography and development from the University of Wisconsin-Madison. He currently studies how state effectiveness affects child health outcomes in South Sudan and Ethiopia. Dr. Mayai has written extensively on South Sudan's current affairs.