South Sudan's Crisis: Its Drivers, Key Players, and Post-conflict Prospects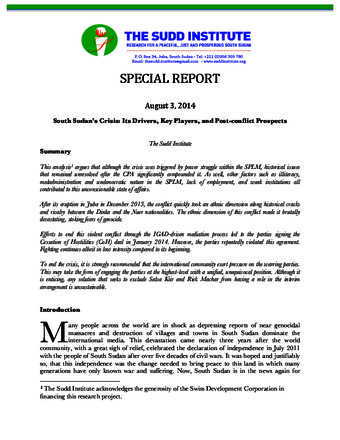 Author: The Sudd Institute
Organization: The Sudd Institute
Type: Special Reports
Date: 03/08/2014
Publication Summary
This analysis argues that although the crisis was triggered by power struggle within the SPLM, historical issues that remained unresolved after the CPA significantly compounded it. As well, other factors such as illiteracy, maladministration and undemocratic nature in the SPLM, lack of employment, and weak institutions all contributed to this unconscionable state of affairs.
After its eruption in Juba in December 2013, the conflict quickly took an ethnic dimension along historical cracks and rivalry between the Dinka and the Nuer nationalities. The ethnic dimension of this conflict made it brutally devastating, stoking fears of genocide.
Efforts to end this violent conflict through the IGAD-driven mediation process led to the parties signing the Cessation of Hostilities (CoH) deal in January 2014. However, the parties repeatedly violated this agreement. Fighting continues albeit in low intensity compared to its beginning.
To end the crisis, it is strongly recommended that the international community exert pressure on the warring parties. This may take the form of engaging the parties at the highest-level with a unified, unequivocal position. Although it is enticing, any solution that seeks to exclude Salva Kiir and Riek Machar from having a role in the interim arrangement is unsustainable.