South Sudan's Crisis: Weighing the Cost of the Stalemate in the Peace Process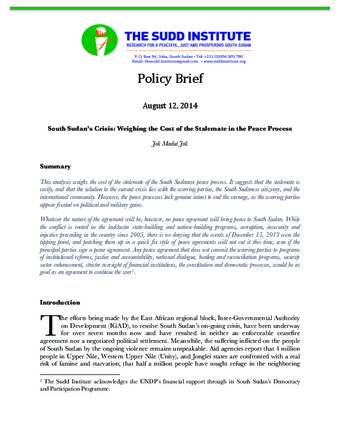 Author: Jok Madut Jok
Organization: The Sudd Institute
Type: Policy Briefs
Date: 12/08/2014
Publication Summary
This analysis weighs the cost of the stalemate of the South Sudanese peace process. It suggests that the stalemate is costly, and that the solution to the current crisis lies with the warring parties, the South Sudanese citizenry, and the international community. However, the peace processes lack genuine intent to end the carnage, as the warring parties appear fixated on political and military gains.
Whatever the nature of the agreement will be, however, no peace agreement will bring peace to South Sudan. While the conflict is rooted in the lackluster state-building and nation-building programs, corruption, insecurity and injustice prevailing in the country since 2005, there is no denying that the events of December 15, 2013 were the tipping point, and patching them up in a quick fix style of peace agreements will not cut it this time, even if the principal parties sign a peace agreement. Any peace agreement that does not commit the warring parties to programs of institutional reforms, justice and accountability, national dialogue, healing and reconciliation programs, security sector enhancement, stricter oversight of financial institutions, the constitution and democratic processes, would be as good as an agreement to continue the war.
Jok Madut Jok is cofounder of the Sudd Institute. Born and raised in Sudan, Jok studied in Egypt and the United States. He is trained in the anthropology of health and holds a Ph.D. from the University of California, Los Angeles (UCLA). Jok recently joined the Government of South Sudan as undersecretary in the Ministry of Culture and Heritage. He was a J. Randolph Senior Fellow at the United States Institute of Peace and a fellow at the Rift Valley Institute. He is a Professor in the Department of History at Loyola Marymount University in California, from which he is on an extended leave. He has also worked in aid and development, first as a humanitarian aid worker and has been a consultant for a number of aid agencies. He is the author of three books and numerous articles covering gender, sexuality and reproductive health, humanitarian aid, ethnography of political violence, gender-based violence, war and slavery, and the politics of identity in Sudan. His book Sudan: Race, Religion and Violence, was published in 2007. Jok is co-editor of The Sudan Handbook, 2010.