South Sudan's Fight against Corruption: Are We Winning?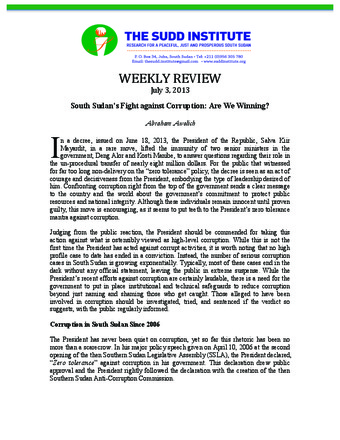 Author: Abraham Awolich
Organization: The Sudd Institute
Type: Weekly Reviews
Date: 03/07/2013
Publication Summary
In a decree, issued on June 18, 2013, the President of the Republic, Salva Kiir Mayardit, in a rare move, lifted the immunity of two senior ministers in the government, Deng Alor and Kosti Manibe, to answer questions regarding their role in the an un-procedural transfer of nearly eight million dollars. For the public that witnessed for far too long non-delivery on the "zero tolerance" policy, the decree is seen as an act of courage and decisiveness from the President, embodying the type of leadership desired of him. Confronting corruption right from the top of the government sends a clear message to the country and the world about the government's commitment to protect public resources and national integrity. Although these individuals remain innocent until proven guilty, this move is encouraging, as it seems to put teeth to the President's zero tolerance mantra against corruption.
Judging from the public reaction, the President should be commended for taking this action against what is ostensibly viewed as high-level corruption. While this is not the first time the President has acted against corrupt activities, it is worth noting that no high profile case to date has ended in a conviction. Instead, the number of serious corruption cases in South Sudan is growing exponentially. Typically, most of these cases end in the dark without any official statement, leaving the public in extreme suspense. While the President's recent efforts against corruption are certainly laudable, there is a need for the government to put in place institutional and technical safeguards to reduce corruption beyond just naming and shaming those who get caught. Those alleged to have been involved in corruption should be investigated, tried, and sentenced if the verdict so suggests, with the public regularly informed.
Abraham Awolich is the former Managing Director of the Sudd Institute. Awolich's research has focused on management of development organizations working in conflict mitigation, governance and business management. Awolich is the co-founder of the Sudan Development Foundation and the former Executive Director of New Sudan Education Initiative (NESEI). Previous to joining the Sudd Institute, Awolich helped establish a secondary school in Yei and a medical clinic in Kalthok, Awerial County. Awolich has a Master's Degree in Pubic Administration from the Maxwell School of Citizenship and Public Affairs at Syracuse University and Bachelor's Degree from the University of Vermont in Anthropology and Business Administration. Awolich is a McNair Scholar and winner of the prestigious Samuel Huntington Public Service Award in 2006.