South Sudan's Petroleum Revenue Management Act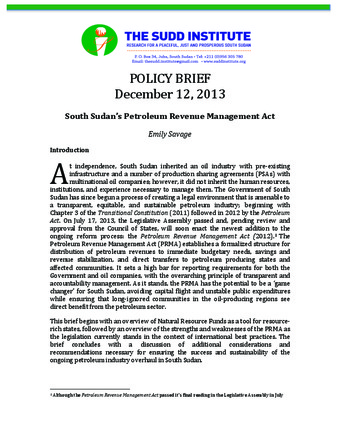 Author: Emily Savage
Organization: The Sudd Institute
Type: Policy Briefs
Date: 12/12/2013
Publication Summary
At independence, South Sudan inherited an oil industry with pre-existing infrastructure and a number of production sharing agreements (PSAs) with multinational oil companies; however, it did not inherit the human resources, institutions, and experience necessary to manage them. The Government of South Sudan has since begun a process of creating a legal environment that is amenable to a transparent, equitable, and sustainable petroleum industry. On July 17, 2013, the Legislative Assembly passed and, pending review and approval from the Council of States, will soon enact the newest addition to the ongoing reform process: the Petroleum Revenue Management Act (2012). The Petroleum Revenue Management Act (PRMA) establishes a formalized structure for distribution of petroleum revenues to immediate budgetary needs, savings and revenue stabilization, and direct transfers to petroleum producing states and affected communities. It sets a high bar for reporting requirements for both the Government and oil companies, with the overarching principle of transparent and accountability management. As it stands, the PRMA has the potential to be a 'game changer' for South Sudan, avoiding capital flight and unstable public expenditures while ensuring that long-ignored communities in the oil-producing regions see direct benefit from the petroleum sector.
Emily Savage is a visitng scholar at Sudd Institute. She holds a Bachelor of Social Sciences in International Development from the School of International Development Global Studies at the University of Ottawa where she completed fieldwork in Kenya on land tenure security and housing development schemes in Nairobi. Currently, she is pursuing a Master of Arts in Geography under the supervision of Dr. Jon Unruh at McGill University. Her research concerns the planned Lamu Port and Lamu-South Sudan-Ethiopia Transport Corridor (LAPSSET) oil pipeline route. The objective of the research is to determine local perceptions of the project as well as local conceptions of meaningful consultation as they relate to land and livelihood security. Her study focuses on communities in Central Equatoria and Eastern Equatoria State, South Sudan as well as Lamu, Kenya. This research also attempts to contribute to the broader questions in international development including: the role of oil in local-level growth, narratives of mega-infrastructure projects, and post-conflict land and livelihood security.

Other research interests include: governance of extractive industries, land management, coastal East African nationalist movements, and Canadian Aboriginal land systems and resource rights.