SPLM Politics of Gender Equity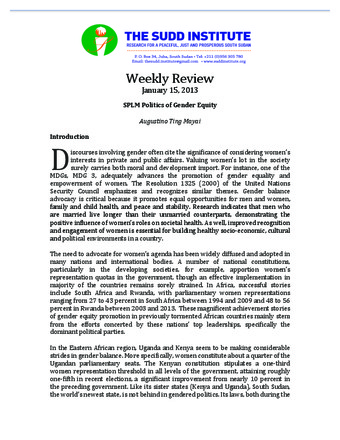 Author: Augustino Ting Mayai
Organization: The Sudd Institute
Type: Weekly Reviews
Date: 10/04/2013
Publication Summary
The need to advocate for women's agenda has been widely diffused and adopted in many nations and international bodies. A number of national constitutions, particularly in the developing societies, for example, apportion women's representation quotas in the government, though an effective implementation in majority of the countries remains sorely strained. In Africa, successful stories include South Africa and Rwanda, with parliamentary women representations ranging from 27 to 43 percent in South Africa between 1994 and 2009 and 48 to 56 percent in Rwanda between 2003 and 2013.  These magnificent achievement stories of gender equity promotion in previously tormented African countries mainly stem from the efforts concerted by these nations' top leaderships, specifically the dominant political parties.
This week, the Sudd Institute reviews the SPLM's program of gender equity, considerably distinguishing between a mere political marketing strategy and a practical policy agenda. The party's recent announcement of an upgrade for women's representative quota is surprising as the party is lagging behind in meeting the 25 percent threshold that should be enforced in most levels of the government. With little to show for in terms of the progress made with respect to achieving the 25 percent apportioned nearly a decade ago, the party's recent declaration largely surfaces as sheer political calculus, perhaps aimed at promoting the party's platform in the 2015 elections. Here, we use the Institutional data to assess the SPLM performance in implementing the 25 percent threshold in key areas of the government. Generally, a careful policy architect first assesses the situation of existing policies before instituting any changes. Lacking informed policy appraisal, the SPLM's new decision to increase women's representative quota may at best be described as erratic and immaterial with respect to the promotion of gender equity in South Sudan.   
Augustino Ting Mayai's Biography
Augustino Ting Mayai is the Managing Director of the Sudd Institute. He is a founding Research Director of the same institution, serving in this capacity for a decade. He holds a Ph.D. in Sociology, with concentrations on demography and development from the University of Wisconsin-Madison. He currently studies how state effectiveness affects child health outcomes in South Sudan and Ethiopia. Dr. Mayai has written extensively on South Sudan's current affairs.