The 2012 U.S. Presidential Election: What the Outcome Means for South Sudan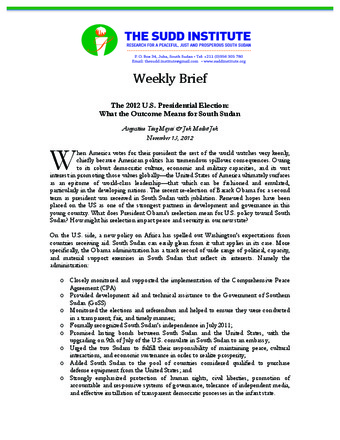 Authors: Jok Madut Jok, Augustino Ting Mayai
Organization: The Sudd Institute
Type: Weekly Reviews
Date: 13/11/2012
Publication Summary
The recent re-election of Barack Obama for a second term as president was received in South Sudan with jubilation. Renewed hopes have been placed on the US as one of the strongest partners in development and governance in this young country. What does President Obama's reelection mean for U.S. policy toward South Sudan? How might his reelection impact peace and security in our new state?
This week's Weekly Review provides the Sudd Institute's analysis on these issues.
Jok Madut Jok is cofounder of the Sudd Institute. Born and raised in Sudan, Jok studied in Egypt and the United States. He is trained in the anthropology of health and holds a Ph.D. from the University of California, Los Angeles (UCLA). Jok recently joined the Government of South Sudan as undersecretary in the Ministry of Culture and Heritage. He was a J. Randolph Senior Fellow at the United States Institute of Peace and a fellow at the Rift Valley Institute. He is a Professor in the Department of History at Loyola Marymount University in California, from which he is on an extended leave. He has also worked in aid and development, first as a humanitarian aid worker and has been a consultant for a number of aid agencies. He is the author of three books and numerous articles covering gender, sexuality and reproductive health, humanitarian aid, ethnography of political violence, gender-based violence, war and slavery, and the politics of identity in Sudan. His book Sudan: Race, Religion and Violence, was published in 2007. Jok is co-editor of The Sudan Handbook, 2010.
Augustino Ting Mayai's Biography
Augustino Ting Mayai is the Director of Research at the Sudd Institute and an Assistant Professor at the University of Juba's School of Public Service. He holds a PhD in Sociology, with concentrations on demography and development from the University of Wisconsin-Madison. He currently studies how state effectiveness affects child health outcomes in South Sudan and Ethiopia. Dr. Mayai has written extensively on South Sudan's current affairs.
Download Full Report (1007 KB)