The African Union and the Botched Responsibility to Act on Behalf of South Sudan's Victims of Conflict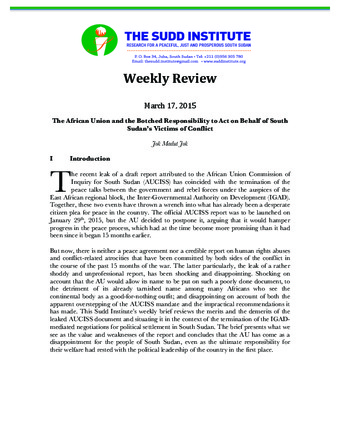 Author: Jok Madut Jok
Organization: The Sudd Institute
Type: Weekly Reviews
Date: 17/03/2015
Publication Summary
The recent leak of a draft report attributed to the African Union Commission of Inquiry for South Sudan (AUCISS) has coincided with the termination of the peace talks between the government and rebel forces under the auspices of the East African regional block, the Inter-Governmental Authority on Development (IGAD). Together, these two events have thrown a wrench into what has already been a desperate citizen plea for peace in the country. The official AUCISS report was to be launched on January 29th, 2015, but the AU decided to postpone it, arguing that it would hamper progress in the peace process, which had at the time become more promising than it had been since it began 15 months earlier.
But now, there is neither a peace agreement nor a credible report on human rights abuses and conflict-related atrocities that have been committed by both sides of the conflict in the course of the past 15 months of the war. The latter particularly, the leak of a rather shoddy and unprofessional report, has been shocking and disappointing. Shocking on account that the AU would allow its name to be put on such a poorly done document, to the detriment of its already tarnished name among many Africans who see the continental body as a good-for-nothing outfit; and disappointing on account of both the apparent overstepping of the AUCISS mandate and the impractical recommendations it has made.
This Sudd Institute's weekly brief reviews the merits and the demerits of the leaked AUCISS document and situating it in the context of the termination of the IGAD-mediated negotiations for political settlement in South Sudan. The brief presents what we see as the value and weaknesses of the report and concludes that the AU has come as a disappointment for the people of South Sudan, even as the ultimate responsibility for their welfare had rested with the political leadership of the country in the first place.
Jok Madut Jok is trained in the anthropology of health and holds a Ph.D. from the University of California, Los Angeles (UCLA). He is a fellow of Rift Valley Institute and Director of the Sudd Institute. Jok has held fellowship positions at a number of other institutions, including the United States Institute of Peace and the Woodrow Wilson International Center for Scholars. He also served in the Government of South Sudan as undersecretary in the Ministry of Culture and Heritage for three years. He has also worked in aid and development and author of four books and numerous articles covering gender, sexuality and reproductive health, humanitarian aid, ethnography of political violence, gender-based violence, war and slavery, and the politics of identity in South Sudan and Sudan. His book Breaking Sudan: The Search for Peace, was published in 2017 by OneWorld.