The Recent Events in Wau: A Disaster Averted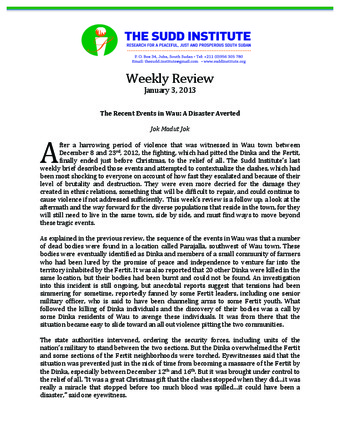 Author: Jok Madut Jok
Organization: The Sudd Institute
Type: Weekly Reviews
Date: 03/01/2013
Publication Summary
After a harrowing period of violence that was witnessed in Wau town between December 8 and 23rd, 2012, the fighting, which had pitted the Dinka and the Fertit, finally ended just before Christmas, to the relief of all. The Sudd Institute's last weekly brief described those events and attempted to contextualize the clashes, which had been most shocking to everyone due to how fast they escalated and because of their level of brutality and destruction. They were even more decried for the damage they created in ethnic relations, something that will be difficult to repair, and could continue to cause violence if not addressed sufficiently. 
This week's review is a follow up; a look at the aftermath and the way forward for the diverse populations that reside in the town, for they will still need to live in the same town, side by side, and must find ways to move beyond these tragic events.
Jok Madut Jok is cofounder of the Sudd Institute. Born and raised in Sudan, Jok studied in Egypt and the United States. He is trained in the anthropology of health and holds a Ph.D. from the University of California, Los Angeles (UCLA). Jok recently joined the Government of South Sudan as undersecretary in the Ministry of Culture and Heritage. He was a J. Randolph Senior Fellow at the United States Institute of Peace and a fellow at the Rift Valley Institute. He is a Professor in the Department of History at Loyola Marymount University in California, from which he is on an extended leave. He has also worked in aid and development, first as a humanitarian aid worker and has been a consultant for a number of aid agencies. He is the author of three books and numerous articles covering gender, sexuality and reproductive health, humanitarian aid, ethnography of political violence, gender-based violence, war and slavery, and the politics of identity in Sudan. His book Sudan: Race, Religion and Violence, was published in 2007. Jok is co-editor of The Sudan Handbook, 2010.