Understanding the Emergence of South Sudan's Current Violence: Political, Social, and Institutional Explanations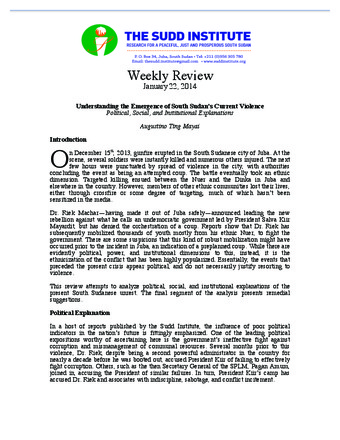 Author: Augustino Ting Mayai
Organization: The Sudd Institute
Type: Weekly Reviews
Date: 22/01/2014
Publication Summary
On December 15th, 2013, gunfire erupted in the South Sudanese city of Juba. At the scene, several soldiers were instantly killed and numerous others injured. The next few hours were punctuated by spread of violence in the city, with authorities concluding the event as being an attempted coup. The battle eventually took an ethnic dimension. Targeted killing ensued between the Nuer and the Dinka in Juba and elsewhere in the country. However, members of other ethnic communities lost their lives, either through crossfire or some degree of targeting, much of which hasn't been sensitized in the media.
Dr. Riek Machar—having made it out of Juba safely—announced leading the new rebellion against what he calls an undemocratic government led by President Salva Kiir Mayardit, but has denied the orchestration of a coup. Reports show that Dr. Riek has subsequently mobilized thousands of youth mostly from his ethnic Nuer, to fight the government. There are some suspicions that this kind of robust mobilization might have occurred prior to the incident in Juba, an indication of a preplanned coup. While there are evidently political, power, and institutional dimensions to this, instead, it is the ethnicization of the conflict that has been highly popularized. Essentially, the events that preceded the present crisis appear political, and do not necessarily justify resorting to violence.
This review attempts to analyze political, social, and institutional explanations of the present South Sudanese unrest. The final segment of the analysis presents remedial suggestions.
Augustino Ting Mayai's Biography
Augustino Ting Mayai is the Managing Director of the Sudd Institute. He is a founding Research Director of the same institution, serving in this capacity for a decade. He holds a Ph.D. in Sociology, with concentrations on demography and development from the University of Wisconsin-Madison. He currently studies how state effectiveness affects child health outcomes in South Sudan and Ethiopia. Dr. Mayai has written extensively on South Sudan's current affairs.