Transparency and Accountability in South Sudan's Petroleum Industry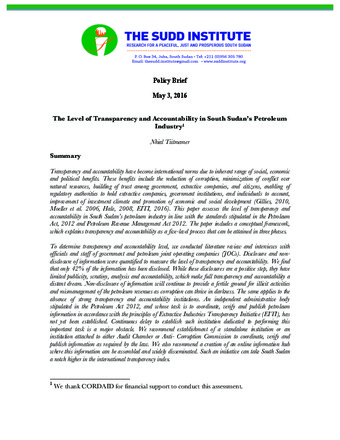 Author: Nhial Tiitmamer
Organization: The Sudd Institute
Type: Policy Briefs
Date: 03/05/2016
Publication Summary
Transparency and accountability have become international norms due to inherent range of social, economic and political benefits. These benefits include the reduction of corruption, minimization of conflict over natural resources, building of trust among government, extractive companies, and citizens, enabling of regulatory authorities to hold extractive companies, government institutions, and individuals to account, improvement of investment climate and promotion of economic and social development (Gillies, 2010, Moeller et al. 2006, Hale, 2008, EITI, 2016). This paper assesses the level of transparency and accountability in South Sudan's petroleum industry in line with the standards stipulated in the Petroleum Act, 2012 and Petroleum Revenue Management Act 2013. The paper includes a conceptual framework, which explains transparency and accountability as a five-level process that can be attained in three phases.
To determine transparency and accountability level, we conducted literature review and interviews with officials and staff of government and petroleum joint operating companies (IOCs). Disclosure and non-disclosure of information were quantified to measure the level of transparency and accountability. We find that only 42% of the information has been disclosed. While these disclosures are a positive step, they have limited publicity, scrutiny, analysis and accountability, which make full transparency and accountability a distant dream. Non-disclosure of information will continue to provide a fertile ground for illicit activities and mismanagement of the petroleum revenues as corruption can thrive in darkness. The same applies to the absence of strong transparency and accountability institutions. An independent administrative body stipulated in the Petroleum Act 2012, and whose task is to coordinate, verify and publish petroleum information in accordance with the principles of Extractive Industries Transparency Initiative (EITI), has not yet been established. Continuous delay to establish such institution dedicated to performing this important task is a major obstacle. We recommend establishment of a standalone institution or an institution attached to either Audit Chamber or Anti- Corruption Commission to coordinate, verify and publish information as required by the law. We also recommend a creation of an online information hub where this information can be assembled and widely disseminated. Such an initiative can take South Sudan a notch higher in the international transparency index. 
Nhial Tiitmamer is the Director of the Environmental and Natural Resources Program at the Sudd Institute and a part-time lecturer at the University of Juba. Before joining The Sudd Institute in 2013, Nhial spent research and consulting stints at Arletta Environmental Consulting in Calgary and at the University of Alberta in Canada. Nhial holds a B.A. in Environmental Studies with a minor in English Literature from the University of Alberta's Augustana Campus and an M.Sc. in Sustainable Energy Development from the University of Calgary in Alberta, Canada. Nhial is the co-founder of the NewSudanVision.com and has extensively commented and written on issues about South Sudan and Sudan.