Food Security and Nutrition Vulnerability and Risk Analysis in Former Warrap and Northern Bahr el Ghazal States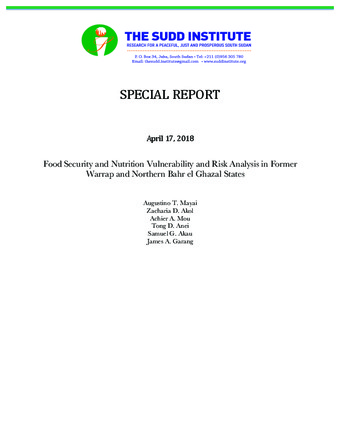 Authors: Zacharia Diing Akol, James Alic Garang, Samuel Garang Akau, Augustino Ting Mayai
Organization: The Sudd Institute
Type: Special Reports
Date: 18/04/2018
Publication Summary
The trends reported in the Integrated Food Security Phase Classification (IPC) show a growing food security crisis in South Sudan, with a high proportion of people sliding into crisis and emergency food insecurity level. The underlying fears concern an emerging acute lack of food in almost all parts of the country, with millions of people, many of them rural women and children, affected. At the peak of the lean season in August to September 2016, Northern Bahr el Ghazal had 72% of its population facing crisis and emergency[1] level. It should also be noted that Northern Bahr el Ghazal's food security indicators continue to be alarming with 62% of the population being severely food insecure (phase 3,4,5) by the peak of the lean season (July)[2]. In January 2017, the Sudd Institute, with generous support from Food and Agriculture Organization (FAO) of the United Nations, explored the proximal risk factors undermining food security resilience and triggering or perpetuating emergency level vulnerabilities in the former states of Warrap and Northern Bahr el Ghazal. Examining 6 major assumptions using Participatory Rural Appraisal (PRA) tools to draw important information from rural households, the results are instructive and in direction of our expectation. They provide insights into appropriate response options for combating food security vulnerability in the region that is nearly sliding into famine. We outline the key results as follows:
Zacharia Diing Akol's Biography
Zacharia Diing Akol is the Director of Training at the Sudd Institute. Diing has extensive experience in community outreach, government and organizational leadership. He is currently working on M.Res./Ph.D. in political science at the London School of Economics. Diing's research interests include the role of civil society organizations in peacebuilding, traditional leadership and democratic governance, post-conflict reconstruction, faith and public policy, and the dynamics of civil war.

Before co-founding the Sudd Institute Diing served as a consultant for the Government of South Sudan, evaluating parliamentary activities and government programs. He was also a Transitional Justice Fellow at the Institute for Justice and Reconciliation in Cape Town, South Africa, a Project Luke Fellow at the Overseas Ministries Studies Center in New Haven, Connecticut, USA. Diing has facilitated short courses on conflict resolution, peace building, leadership and administration in Grand Rapids, Michigan, USA, Malakal and Renk, South Sudan and given public lectures on Sudan and South Sudan at numerous universities across the United States.

Diing holds a Master's degree in Peace and Justice Studies from the University of San Diego and two Bachelor's degrees from Michigan State University in Public Policy & Administration and Policy & Applied Economics.
James Alic Garang is a co-founder and scholar at The Sudd Institute. His areas of interest include macroeconomics, banking/financial inclusion and development economics.

James has in the past participated in host of academic and professional undertakings, including internships at the African Development in Tunisia, as a lead evaluator on the Banking Sector during the "Comprehensive Evaluation of the Government of South Sudan, 2006-2010", and board member serving on a number of charitable organizations.

A McNair Scholar, and member of Omicron Delta Epsilon, the international honor society in the field of economics, James holds a Bachelor of Science (with honors) in economics from the University of Utah. James holds a PhD in Economics from the University of Massachusetts, Amherst.

James is a Senior Economist with a sister policy institute, the Ebony Center for Strategic Studies (ECSS).
Augustino Ting Mayai's Biography
Augustino Ting Mayai is the Director of Research at the Sudd Institute and an Assistant Professor at the University of Juba's School of Public Service. He holds a PhD in Sociology, with concentrations on demography and development from the University of Wisconsin-Madison. He currently studies how state effectiveness affects child health outcomes in South Sudan and Ethiopia. Dr. Mayai has written extensively on South Sudan's current affairs.