Salary Adjustment for the South Sudanese Legislature: Policy Implications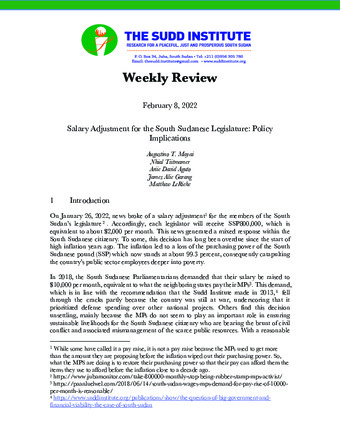 Authors: Matthew LeRiche, James Alic Garang, Ariic David Aguto Reng, Nhial Tiitmamer, Augustino Ting Mayai
Type: Weekly Reviews
Date: 08/02/2022
Publication Summary
This Weekly Review analyzes this new policy by looking at factors that necessitated it, budgetary implications, and more broadly, policy implications for the public sector employees, as well as macroeconomic stability. We conclude the Review with policy recommendations that are targeted at the imperative of conducting public sector wage review and eventual science-based indexation of these wages to ensure sustainable peace, economic growth, and poverty reduction.
Matthew LeRiche is an Assistant Professor of Global Studies, Director War and Peace Studies, Director Global Leadership Center, Ohio University. He is a regular political risk analyst for industry and government. Author of various articles and chapters on South Sudan as well as the book South Sudan: From Revolution to Independence (Oxford University Press). Matthew holds a Ph.D. from King's College London.
James Alic Garang is a co-founder and scholar at The Sudd Institute. His areas of interest include macroeconomics, development economics, financial sector, and financial inclusion. He has in the past participated in host of academic and professional undertakings, including internships at the African Development Bank in Tunisia (2009-2010), as a lead evaluator on the Banking Sector during the "Comprehensive Evaluation of the Government of South Sudan, 2006-2010", a consultant with the World Bank (2013-2014), and a board member serving on a number of charitable organizations and academic affiliations. A former McNair Scholar, and a member of Omicron Delta Epsilon, James holds a PhD in Economics from the University of Massachusetts, Amherst. A former Deputy Dean of Faculty of Economic & Social Studies at Upper Nile University and a Senior Economist with the Ebony Center for Strategic Studies, he is currently a Senior Advisor to the Executive Director at the IMF Executive Board in Washington, DC.
Ariic David Aguto Reng's Biography
Ariic David Aguto Reng holds a bachelor of Management (Financial Economics) from the University of Toronto and a Master of Arts in Economics. He has a wealth of professional experience working in the public and the private sectors. He has worked for the Canadian Revenue Agency (CRA), The Ontario Ministry of Agriculture & Rural Affairs, Directorate of Economic Innovation. More recently with Deloitte Consulting LLP, he was an Analyst for a USAID-funded project aimed at creating macroeconomic stability and promoting core economic governance within Ministry of Finance and Economic Planning (MOFEP), Bank of South Sudan (BOSS), and the Ministry of Petroleum and Mining (MPMI). He is currently the Business Manager of the Eye Radio where he is managing and implementing a USAID-funded media development grant in South Sudan. Mr. Ariic is also an Associate Lecturer at the University of Juba where he teaches Fiscal Management in the Public Sector at the School of Public Service (SPS).
Nhial Tiitmamer is the Director of the Environmental and Natural Resources Program at the Sudd Institute and a part-time lecturer at the University of Juba. Before joining The Sudd Institute in 2013, Nhial spent research and consulting stints at Arletta Environmental Consulting in Calgary and at the University of Alberta in Canada. Nhial holds a B.A. in Environmental Studies with a minor in English Literature from the University of Alberta's Augustana Campus and an M.Sc. in Sustainable Energy Development from the University of Calgary in Alberta, Canada. Nhial is the co-founder of the NewSudanVision.com and has extensively commented and written on issues about South Sudan and Sudan.
Augustino Ting Mayai's Biography
Augustino Ting Mayai is the Managing Director of the Sudd Institute. He is a founding Research Director of the same institution, serving in this capacity for a decade. He holds a Ph.D. in Sociology, with concentrations on demography and development from the University of Wisconsin-Madison. He currently studies how state effectiveness affects child health outcomes in South Sudan and Ethiopia. Dr. Mayai has written extensively on South Sudan's current affairs.