To dredge or not to dredge the White Nile's tributaries: is the cart before the horse?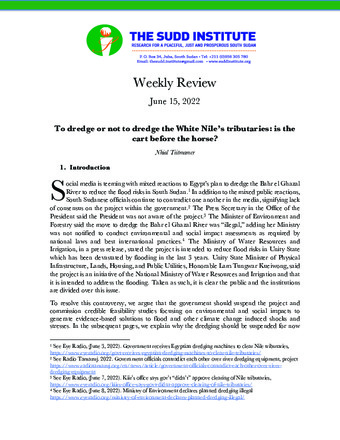 Author: Nhial Tiitmamer
Type: Weekly Reviews
Date: 15/06/2022
Publication Summary
Social media is teeming with mixed reactions to Egypt's plan to dredge the Bahr el Ghazal River to reduce the flood risks in South Sudan. In addition to the mixed public reactions, South Sudanese officials continue to contradict one another in the media, signifying lack of consensus on the project within the government. The Press Secretary in the Office of the President said the President was not aware of the project. The Minister of Environment and Forestry said the move to dredge the Bahr el Ghazal River was "illegal," adding her Ministry was not notified to conduct environmental and social impact assessments as required by national laws and best international practices. The Ministry of Water Resources and Irrigation, in a press release, stated the project is intended to reduce flood risks in Unity State which has been devastated by flooding in the last 3 years. Unity State Minister of Physical Infrastructure, Lands, Housing, and Public Utilities, Honorable Lam Tungwar Kueiwong, said the project is an initiative of the National Ministry of Water Resources and Irrigation and that it is intended to address the flooding. Taken as such, it is clear the public and the institutions are divided over this issue. 
To resolve this controversy, we argue that the government should suspend the project and commission credible feasibility studies focusing on environmental and social impacts to generate evidence-based solutions to flood and other climate change induced shocks and stresses. In the subsequent pages, we explain why the dredging should be suspended for now until credible studies are conducted, subsequently determining the next necessary policy actions in response to the nagging floods in the country, not just Unity alone. 
Nhial Tiitmamer is the Director of the Environmental and Natural Resources Program at the Sudd Institute and a part-time lecturer at the University of Juba. Before joining The Sudd Institute in 2013, Nhial spent research and consulting stints at Arletta Environmental Consulting in Calgary and at the University of Alberta in Canada. Nhial holds a B.A. in Environmental Studies with a minor in English Literature from the University of Alberta's Augustana Campus and an M.Sc. in Sustainable Energy Development from the University of Calgary in Alberta, Canada. Nhial is the co-founder of the NewSudanVision.com and has extensively commented and written on issues about South Sudan and Sudan.