Alternatives to UN Trusteeship and Joint Administration Proposals Provided: A Response to Kuir Garang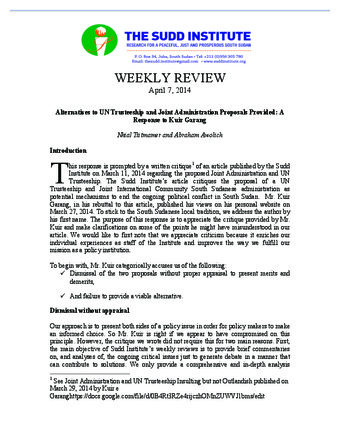 Authors: Abraham Awolich, Nhial Tiitmamer
Organization: The Sudd Institute
Type: Weekly Reviews
Date: 07/04/2014
Publication Summary
This response is prompted by a written critique of an article published by the Sudd Institute on March 11, 2014 regarding the proposed Joint Administration and UN Trusteeship. The Sudd Institute's article critiques the proposal of a UN Trusteeship and Joint International Community South Sudanese administration as potential mechanisms to end the ongoing political conflict in South Sudan.  Mr. Kuir Garang, in his rebuttal to this article, published his views on his personal website on March 27, 2014. To stick to the South Sudanese local tradition, we address the author by his first name. The purpose of this response is to appreciate the critique provided by Mr. Kuir and make clarifications on some of the points he might have misunderstood in our article. We would like to first note that we appreciate criticism because it enriches our individual experiences as staff of the Institute and improves the way we fulfill our mission as a policy institution.
To begin with, Mr. Kuir categorically accuses us of the following:
Dismissal of the two proposals without proper appraisal to present merits and demerits,
And failure to provide a viable alternative.
Abraham Awolich is the Managing Director of the Sudd Institute. Awolich's research has focused on management of development organizations working in conflict mitigation, governance and business management. Awolich is the co-founder of the Sudan Development Foundation and the former Executive Director of New Sudan Education Initiative (NESEI). Previous to joining the Sudd Institute, Awolich helped establish a secondary school in Yei and a medical clinic in Kalthok, Awerial County. Awolich has a Master's Degree in Pubic Administration from the Maxwell School of Citizenship and Public Affairs at Syracuse University and Bachelor's Degree from the University of Vermont in Anthropology and Business Administration. Awolich is a McNair Scholar and winner of the prestigious Samuel Huntington Public Service Award in 2006.
Nhial Tiitmamer is the Director of the Environmental and Natural Resources Program at the Sudd Institute and a part-time lecturer at the University of Juba. Before joining The Sudd Institute in 2013, Nhial spent research and consulting stints at Arletta Environmental Consulting in Calgary and at the University of Alberta in Canada. Nhial holds a B.A. in Environmental Studies with a minor in English Literature from the University of Alberta's Augustana Campus and an M.Sc. in Sustainable Energy Development from the University of Calgary in Alberta, Canada. Nhial is the co-founder of the NewSudanVision.com and has extensively commented and written on issues about South Sudan and Sudan.