The Question of Ugandan Troops in South Sudan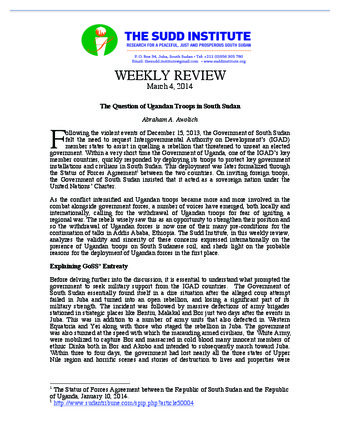 Author: Abraham Awolich
Organization: The Sudd Institute
Type: Weekly Reviews
Date: 04/03/2014
Publication Summary
Following the violent events of December 15, 2013, the Government of South Sudan felt the need to request Intergovernmental Authority on Development's (IGAD) member states to assist in quelling a rebellion that threatened to unseat an elected government. Within a very short time the Government of Uganda, one of the IGAD's key member countries, quickly responded by deploying its troops to protect key government installations and civilians in South Sudan. This deployment was later formalized through the Status of Forces Agreement[1] between the two countries. On inviting foreign troops, the Government of South Sudan insisted that it acted as a sovereign nation under the United Nations' Charter.
As the conflict intensified and Ugandan troops became more and more involved in the combat alongside government forces, a number of voices have emerged locally and internationally, calling for the withdrawal of Ugandan troops for fear of igniting a regional war. The rebels wisely saw this as an opportunity to strengthen their position and so the withdrawal of Ugandan forces is now one of their many pre-conditions for the continuation of talks in Addis Ababa, Ethiopia. The Sudd Institute, in this weekly review, analyzes the validity and sincerity of these concerns expressed internationally on the presence of Ugandan troops on South Sudanese soil, and sheds light on the probable reasons for the deployment of Ugandan forces in the first place.
Abraham Awolich is the former Managing Director of the Sudd Institute. Awolich's research has focused on management of development organizations working in conflict mitigation, governance and business management. Awolich is the co-founder of the Sudan Development Foundation and the former Executive Director of New Sudan Education Initiative (NESEI). Previous to joining the Sudd Institute, Awolich helped establish a secondary school in Yei and a medical clinic in Kalthok, Awerial County. Awolich has a Master's Degree in Pubic Administration from the Maxwell School of Citizenship and Public Affairs at Syracuse University and Bachelor's Degree from the University of Vermont in Anthropology and Business Administration. Awolich is a McNair Scholar and winner of the prestigious Samuel Huntington Public Service Award in 2006.