The Role of Women in Peace-Building in South Sudan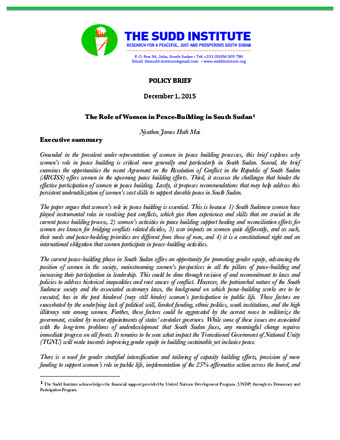 Author: Nyathon Hoth Mai
Organization: The Sudd Institute
Type: Policy Briefs
Date: 01/12/2015
Publication Summary
Grounded in the prevalent under-representation of women in peace-building processes, this brief explores why women's role in peace-building is critical more generally and particularly in South Sudan. Second, the brief examines the opportunities the recent Agreement on the Resolution of Conflict in the Republic of South Sudan (ARCISS) offers women in the upcoming peace-building efforts. Third, it assesses the challenges that hinder the effective participation of women in peace-building. Lastly, it proposes recommendations that may help address this persistent underutilization of women's vast skills to support durable peace in South Sudan.
The paper argues that women's role in peace-building is essential. This is because 1) South Sudanese women have played instrumental roles in resolving past conflicts, which gives them experiences and skills that are crucial in the current peace-building process, 2) women's activities in peace-building support healing and reconciliation efforts, for women are known for bridging conflicted related divides, 3) war impacts on women quite differently, and as such, their needs and peace-building priorities are different from those of men; and 4) it is a constitutional right and an international obligation that women participate in peace-building activities.
The current peace-building phase in South Sudan offers an opportunity for promoting gender equity, advancing the position of women in the society, mainstreaming women's perspectives in all the pillars of peace-building and increasing their participation in leadership. This could be done through revision of and recommitment to laws and policies to address historical inequalities and root causes of conflict. However, the patriarchal nature of the South Sudanese society and the associated customary laws, the background on which peace-building works are to be executed, has in the past hindered (may still hinder) women's participation in public life. These factors are exacerbated by the underlying lack of political will, limited funding, ethnic politics, weak institutions, and the high illiteracy rate among women. Further, these factors could be aggravated by the current move to militarize the government, evident by recent appointments of states' caretaker governors. While some of these issues are associated with the long-term problems of underdevelopment that South Sudan faces, any meaningful change requires immediate progress on all fronts. It remains to be seen what impact the Transitional Government of National Unity (TGNU) will make towards improving gender equity in building sustainable yet inclusive peace.
There is need for gender stratified intensification and tailoring of capacity building efforts, provision of more funding to improve to support women's role in public life, implementation of the 25% affirmative action across the board, and mainstreaming gender perspectives in all sectors of South Sudan. These initiatives may promote women's greater participation in peace-building processes, hence sustainable peace.  
Nyathon Hoth Mai is Environment and Natural Resources Program Officer at the Sudd Institute. Before joining the Institute full time, Nyathon worked as Research Associate between Oct 2015 and Jan 2019. She has a BSc in Geology from the Federation University, Australia, and an MSc in Global Energy and Climate Policy from the School of Oriental and African Studies (SOAS), University of London. She is also an independent Researcher and policy analyst. Her research interest areas include Geology, climate change and energy policy, and issues affecting South Sudanese women. In addition, Nyathon was the Co-founder and Managing Director of My Referendum for Freedom (MRF) that actively engaged the South Sudanese youth from all over South Sudan and diaspora as a vehicle for civic education to the rest of the populace during the South Sudan Referendum. She also devoted much of her time to South Sudan community development in Australia.