The South Sudanization of the Petroleum Industry Through Local Content: Is the Dream within Reach?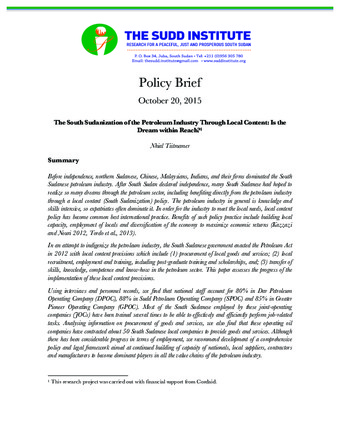 Author: Nhial Tiitmamer
Organization: The Sudd Institute
Type: Policy Briefs
Date: 20/10/2015
Publication Summary
Before independence, northern Sudanese, Chinese, Malaysians, Indians, and their firms dominated the South Sudanese petroleum industry. After South Sudan declared independence, many South Sudanese had hoped to realize so many dreams through the petroleum sector, including benefiting directly from the petroleum industry through a local content (South Sudanization) policy. The petroleum industry, in general, is knowledge and skills intensive, so expatriates often dominate it. In order for the industry to meet the local needs, local content policy has become common best international practice. Benefits of such policy practice include building local capacity, employment of locals and diversification of the economy to maximize economic returns (Kazzazi and Nouri 2012, Tordo et al., 2013).
In an attempt to indigenize the petroleum industry, the South Sudanese government enacted the Petroleum Act in 2012 with local content provisions which include (1) procurement of localgoods and services; (2) local recruitment, employment and training, including post-graduate training and scholarships, and; (3) transfer of skills, knowledge, competence and know-how in the petroleum sector. This paper assesses the progress of the implementation of these local content provisions.
Using interviews and personnel records, we find that national staff account for 80% in Dar Petroleum Operating Company (DPOC), 88% in Sudd Petroleum Operating Company (SPOC) and 85% in Greater Pioneer Operating Company (GPOC). Most of the South Sudanese employed by these joint operating companies (JOCs) have been trained several times to be able to effectively and efficiently perform job-related tasks. Analysing information on procurement of goods and services, we also find that these operating oil companies have contracted about 50 South Sudanese local companies to provide goods and services. Although there has been considerable progress in terms of employment, we recommend development of a comprehensive policy and legal framework aimed at continued building of capacity of nationals, local suppliers, contractors and manufacturers to become dominant players in all the value chains of the petroleum industry.
Nhial Tiitmamer is Programme Manager for environmental, energy and natural resources research and as well the Institute's Focal Point on Building Resilience and Adaptation to Climate Extremes and Disasters (BRACED), a climate change resilience programme being implemented in South Sudan by a consortium composed of The Sudd Institute and five international organizations. Nhial holds a Bachelor's Degree and a Master of Science in Environmental Studies and Sustainable Energy from the Universities of Alberta and Calgary in Canada where he spent stints as an environmental consultant and research associate in environmental studies. Nhial is the co-founder of the NewSudanVision.com and has extensively commented and written on issues about South Sudan.