South Sudan's Anti-Corruption Efforts and Poor Global Ranking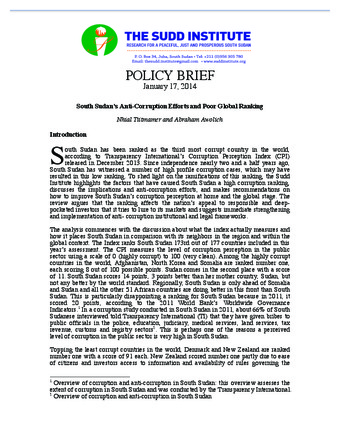 Authors: Abraham Awolich, Nhial Tiitmamer
Organization: The Sudd Institute
Type: Policy Briefs
Date: 17/01/2014
Publication Summary
South Sudan has been ranked as the third most corrupt country in the world, according to Transparency International's Corruption Perception Index (CPI) released in December 2013. Since independence nearly two and a half years ago, South Sudan has witnessed a number of high profile corruption cases, which may have resulted in this low ranking. To shed light on the ramifications of this ranking, the Sudd Institute highlights the factors that have caused South Sudan a high corruption ranking, discusses the implications and anti-corruption efforts, and makes recommendations on how to improve South Sudan's corruption perception at home and the global stage. The review argues that the ranking affects the nation's appeal to responsible and deep-pocketed investors that it tries to lure to its markets and suggests immediate strengthening and implementation of anti- corruption institutional and legal frameworks.
The analysis commences with the discussion about what the index actually measures and how it places South Sudan in comparison with its neighbors in the region and within the global context. The Index ranks South Sudan 173rd out of 177 countries included in this year's assessment. The CPI measures the level of corruption perception in the public sector using a scale of 0 (highly corrupt) to 100 (very clean). Among the highly corrupt countries in the world, Afghanistan, North Korea and Somalia are ranked number one, each scoring 8 out of 100 possible points. Sudan comes in the second place with a score of 11. South Sudan scores 14 points, 3 points better than her mother country, Sudan, but not any better by the world standard. Regionally, South Sudan is only ahead of Somalia and Sudan and all the other 51 African countries are doing better in this front than South Sudan. This is particularly disappointing a ranking for South Sudan because in 2011, it scored 20 points, according to the 2011 World Bank's Worldwide Governance Indicators.[1] In a corruption study conducted in South Sudan in 2011, about 66% of South Sudanese interviewed told Transparency International (TI) that they have given bribes to public officials in the police, education, judiciary, medical services, land services, tax revenue, customs and registry sectors[2]. This is perhaps one of the reasons a perceived level of corruption in the public sector is very high in South Sudan.
Abraham Awolich is the Director of Administration and Finance at the Sudd Institute. Awolich's research has focused on management of development organizations working in conflict mitigation, governance and business management. Awolich is the co-founder of the Sudan Development Foundation and the former Executive Director of New Sudan Education Initiative (NESEI). Previous to joining the Sudd Institute, Awolich helped establish a secondary school in Yei and a medical clinic in Kalthok, Awerial County. Awolich has a Master's Degree in Pubic Administration from the Maxwell School of Citizenship and Public Affairs at Syracuse University and Bachelor's Degree from the University of Vermont in Anthropology and Business Administration. Awolich is a McNair Scholar and winner of the prestigious Samuel Huntington Public Service Award in 2006.
Nhial Tiitmamer is Programme Manager for environmental, energy and natural resources research and as well the Institute's Focal Point on Building Resilience and Adaptation to Climate Extremes and Disasters (BRACED), a climate change resilience programme being implemented in South Sudan by a consortium composed of The Sudd Institute and five international organizations. Nhial holds a Bachelor's Degree and a Master of Science in Environmental Studies and Sustainable Energy from the Universities of Alberta and Calgary in Canada where he spent stints as an environmental consultant and research associate in environmental studies. Nhial is the co-founder of the NewSudanVision.com and has extensively commented and written on issues about South Sudan.