The Impracticality of Sanctions and Why Diplomacy Makes Sense in South Sudan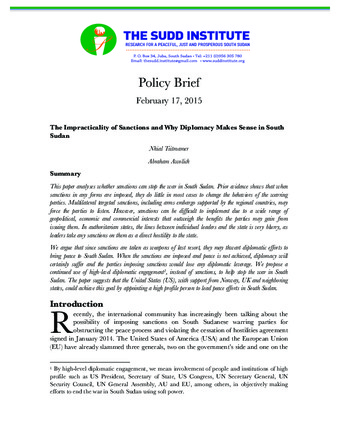 Authors: Abraham Awolich, Nhial Tiitmamer
Organization: The Sudd Institute
Type: Policy Briefs
Date: 17/02/2015
Publication Summary
This paper analyses whether sanctions can stop the war in South Sudan. Prior evidence shows that when sanctions in any forms are imposed, they do little in most cases to change the behaviors of the warring parties. Multilateral targeted sanctions, including arms embargo supported by the regional countries, may force the parties to listen. However, sanctions can be difficult to implement due to a wide range of geopolitical, economic and commercial interests that outweigh the benefits the parties may gain from issuing them. In authoritarian states, the lines between individual leaders and the state is very blurry, as leaders take any sanctions on them as a direct hostility to the state.
We argue that since sanctions are taken as weapons of last resort, they may thwart diplomatic efforts to bring peace to South Sudan. When the sanctions are imposed and peace is not achieved, diplomacy will certainly suffer and the parties imposing sanctions would lose any diplomatic leverage. We propose a continued use of high-level diplomatic engagement, instead of sanctions, to help stop the war in South Sudan. The paper suggests that the United States (US), with support from Norway, UK and neighboring states, could achieve this goal by appointing a high profile person to lead peace efforts in South Sudan.
Abraham Awolich is the Director of Administration and Finance at the Sudd Institute. Awolich's research has focused on management of development organizations working in conflict mitigation, governance and business management. Awolich is the co-founder of the Sudan Development Foundation and the former Executive Director of New Sudan Education Initiative (NESEI). Previous to joining the Sudd Institute, Awolich helped establish a secondary school in Yei and a medical clinic in Kalthok, Awerial County. Awolich has a Master's Degree in Pubic Administration from the Maxwell School of Citizenship and Public Affairs at Syracuse University and Bachelor's Degree from the University of Vermont in Anthropology and Business Administration. Awolich is a McNair Scholar and winner of the prestigious Samuel Huntington Public Service Award in 2006.
Nhial Tiitmamer is Programme Manager for environmental, energy and natural resources research and as well the Institute's Focal Point on Building Resilience and Adaptation to Climate Extremes and Disasters (BRACED), a climate change resilience programme being implemented in South Sudan by a consortium composed of The Sudd Institute and five international organizations. Nhial holds a Bachelor's Degree and a Master of Science in Environmental Studies and Sustainable Energy from the Universities of Alberta and Calgary in Canada where he spent stints as an environmental consultant and research associate in environmental studies. Nhial is the co-founder of the NewSudanVision.com and has extensively commented and written on issues about South Sudan.